Karl Lagerfelds Hogan gathering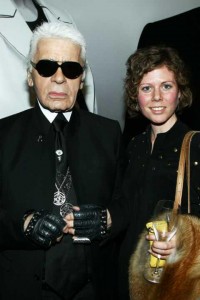 AFTER SHOW PARTY: Karl Lagerfelds presents the new Hogan 
Lagerfeld had invited friends and important people over for a special gathering, to present the new Hogan collection 2012/13 in Paris. I was there to tell you about it.
By Agent Luxe
On the other side of the Seine, opposite the Louvre, through a Parisian paved courtyard, in a room with sophisticated people, I saw waiters and champagne and the new Hogan-collection presented in glass showcases.
The room was small, but cosy. Around 22.00 – 23.00 more famous people arrived, so the room would soon be filled with photografers, and journalists as well. I had the feeling that everyone were a little reserved, and sticked to the people they knew. While I got to talk to a comidien living in Paris. We talked about the collection.
Hogan is a new collection that has emerged from collaboration between Hogan and Karl Lagerfeld. "It´s a collection that brings together accessories and ready-to-wear, and borrows DNA from both the French and the Italian brands; the haute couture working sketches and balanced proportions of Karl Lagerfeld, with the urban-chic lifestyle and the contemporary luxury of Hogan" – As they write in the press-release.
It's a collection that centers on the interactive – on daytime and nighttime.
Karl Lagerfeld entered the room. I heard him say to a journalist right next to me, that he is pleased to show a smaller collection well suited for both women and men – A collection consisting of pure lines.
After the presentation, the French and American actors, the models and me slipped out into the night, and continued our way along the Seine.
All I´ve got left to say is: "The new slogan starts with Hogan".