The world of Karl Lagerfeld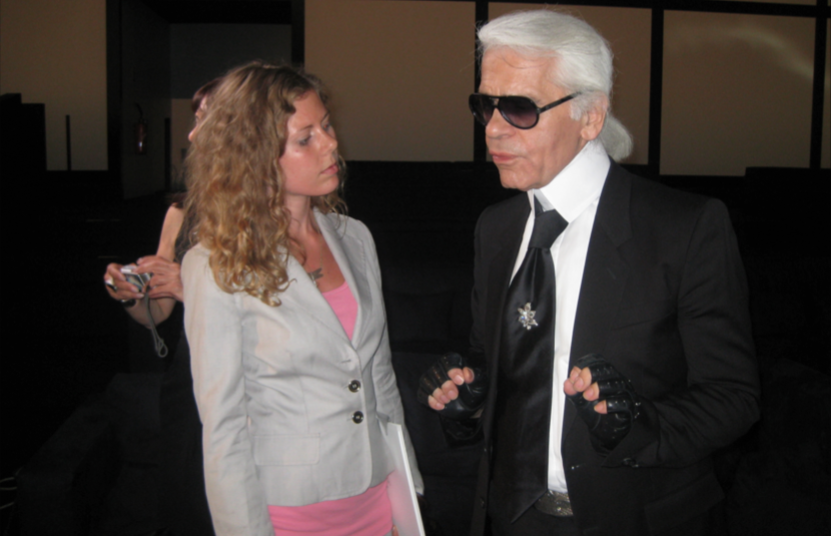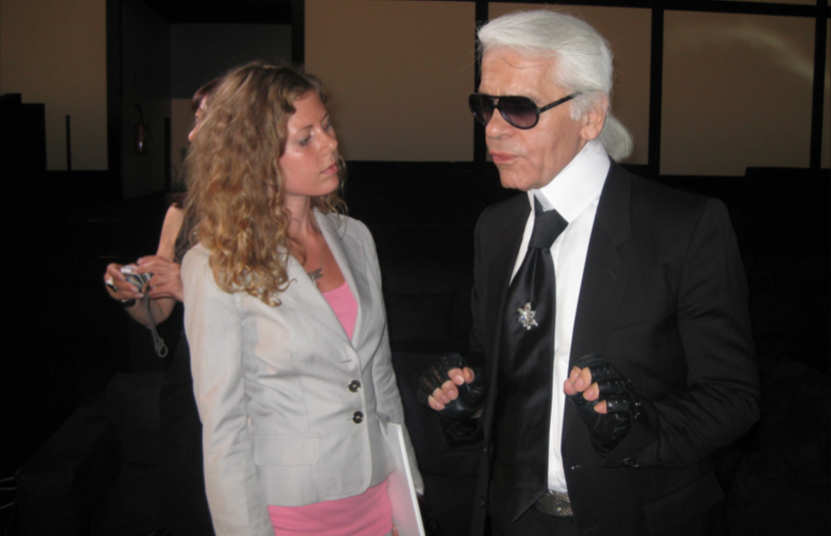 Within the world of luxury many people has inspired me! But there is one person in particular who keeps on impressing me: Karl Lagerfeld. The man that time after time reminds me that everything is possible! If you have an idea and several talents why no try to fulfill them all? Karl Lagerfeld shows a way to go! Read my interview and watch the great documentary about him here…
Article and pictures by Julie Johansen
WHAT IS IT LIKE TO BE KARL IN A WORLD OF LUXURY??
In my search for a deeper understanding of the luxury world and the people who work within it I have crossed Karl Lagerfeld a couple of times.
First time was in July 2009 were I was fortunate enough to get a short Interview with him…after 2,5 hour of patient waiting. I had been waiting not as much for the conversation's sake, as for the possibility to form my own impression of the man behind the mask that appears strict and cool outwardly.
Interview with Karl Lagerfeld 2009
I introduced myself as a freelance journalist from Denmark.
Karl gave me a big smile and said "aaaaa, Denmark – I like Denmark".
An obvious subject in that context was the fashion-concept. So I asked him:
"Where do you find your inspiration for the collections?"
He replied: "I often get the inspiration during the night when I´m dreaming." He explained  that his inspiration often is based on an intuitive sense rather than on something rational and concrete.
I continued: "Do you have any presumptions of what will become next season's fashion trend?"
He replied that he didn´t. He said that if he had the answer already he wouldn´t have a vision to strive for in the future.
His answers proved to me that he´s NOT trying to figure out what people want (NOT following a typical marketing approach like many other brands). Instead he bases his choices on: a feeling, an intuition, an idea.
I thanked Karl and went home… I had learned that Karl only creates what amuses him, independent of others opinions. He doesn´t try to please anyone and he doesn´t try to predict things beforehand. And I had formed my first impression: An adorable man, serious, intelligent, passionate and filled with humor. 
At Dior Mens Wear show 2010
I met him again in 2010 after the Dior Mens wear Show in Paris where he had come to show his support to his good friend and like-minded: Kris Van Assche: Creative Director for Dior Mens Wear.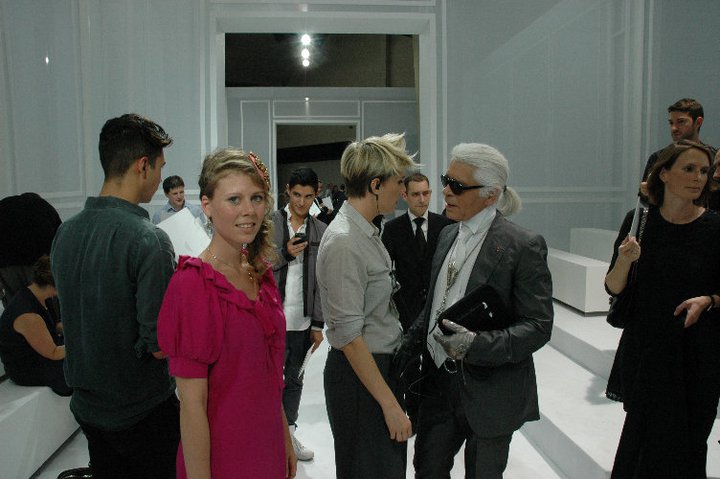 A german guy wanted to take our picture and said something like:
"Would you please step closer to the young girl"…when Karl came back to him with a quick remark saying:
"But she´s not a girl…do you talk to the ladies like that?"… followed by a little smile that proved his great humor. A typical German / Danish humor filled with irony.
Again I experienced a friendly attitude and his hidden humor appearing to the surface as he started talking. A great man with many assets. ( Remark that he doesn´t always wear black!)