Interview with Karl Lagerfeld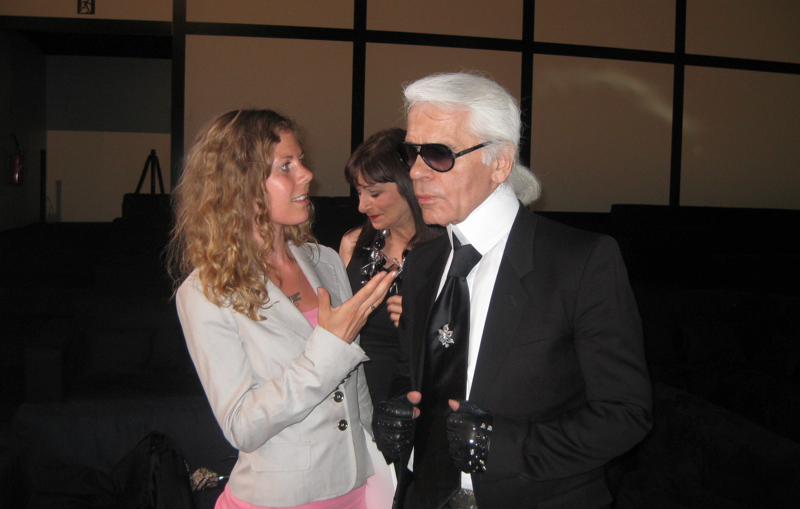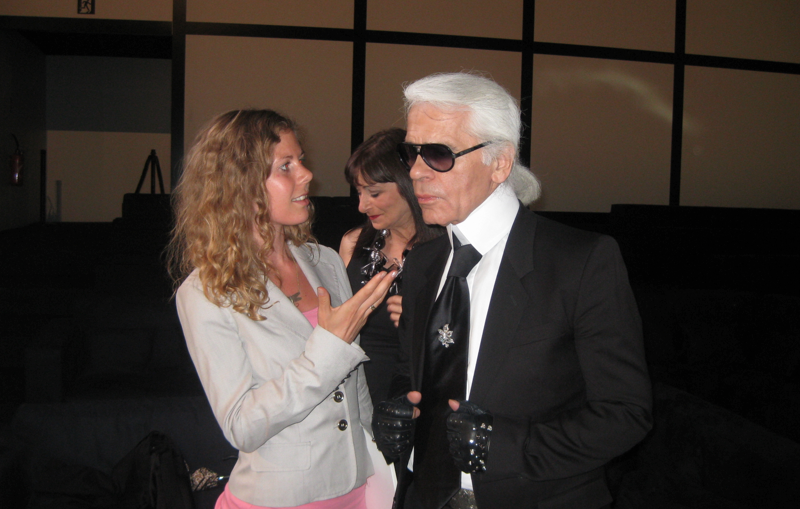 Where does Karl Lagerfeld find his inspiration for the Chanel collection?
July 2009 Karl Lagerfeld opened the doors to a fantastic haute couture Chanel show. A show appearing nothing less than gigantesque and creatively surprising compared to the most fashion-shows. I don´t know whether it was the exclusive luxury atmosphere, or the little goodie back with a Chanel perfume inside of it, or the fact that the entire collection enchanted me with a fascination dust,  but as I left the room, I was flying! Or perhaps it was due to the magical moment after the show, where I got my little exclusive interview with Karl Lagerfeld.
The Chanel show took place at "Le Grand Palais.", an extraordinary building that, by Karl Lagerfeld, has been described as "the heart of Paris". If it wasn´t so, he definitely made it so.
The opulent interior contained four copies of oversized Chanel perfume bottles. From within them the mannequins appeared on the catwalk. Meanwhile a white shimmering light tracked the celebrities in the luxurious armchairs. The show had begun.
The first model entering the podium was wearing a long classical Chanel coat. From underneath it a golden gown in silk made it´s appearance. It had a small band of fur at the neckline; a detail perfectly matching the bottom of the jacket, and thereby underlining the precision of Chanel.
Next mannequin was wearing pink. Her red warm hair, black-patterned stockings and matching pink shoes, gave her, in terms of color, the most dissolute look of them all. It made me consider; perhaps we should go for the red hair color next season… so absolutely feminine.
She was followed by a model wearing a navy blue suit. The suit gave me connotations to a stewardess outfit, except from the added transparent bell-shaped hat in black. If stewardess´ could wear that, I´m sure more people would enjoy their flight!
The colors of this autumn/winter collection were especially: burgundy, tan, navy, beige, white, and black. Continuous warm autumn colors.
An absolutely amazing collection…one of my favorites!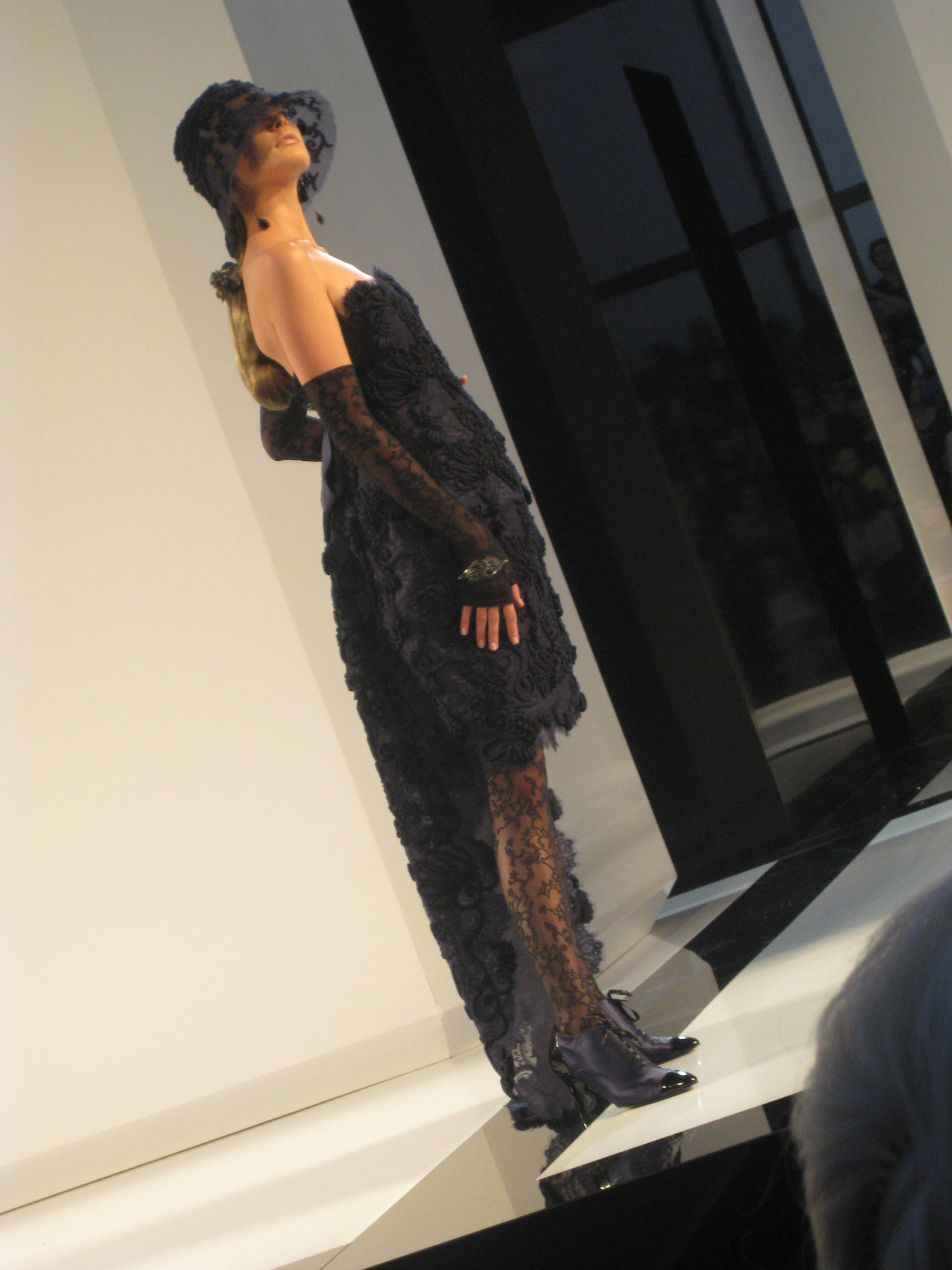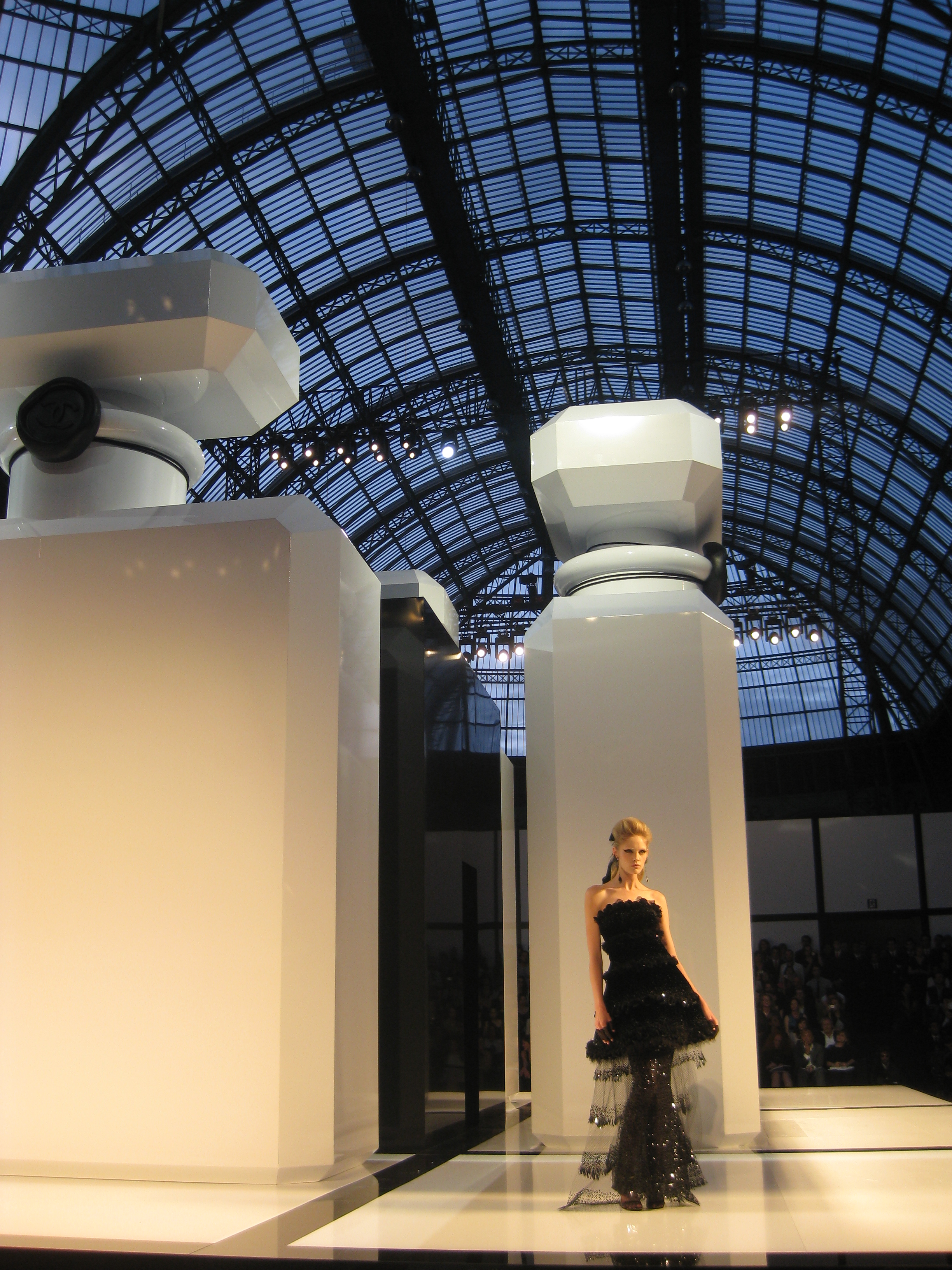 Just before the show ended, sounds of church bells came out the loudspeakers, the podium had turned into an aisle, where a bride and her groom walked in. If you hadn´t thought about getting married just before then, you diffintitely did now, when this moment of joy hit your inner church bells.
A final applause from a thrilled audience, and the show was over.
Interview with Karl Lagerfeld
After the show I coincidently bumped into an Italian man, and started a conversation. He turned out to be among the providers of textiles for the Chanel dresses.
He revealed to me, that there´s a lot of perfectionism behind the choice of textile. Colors and materials must appear in a certain way. It must be determined, ordered and negotiated with Karl Lagerfeld. Sometimes the textile must be redone in order to fit perfectly. That´s what so great about Chanel, it aspires luxurious perfectionism down to the last detail.
Someone told me, that Karl Lagerfeld rarely stays a long time after the show. That was clear, when I saw journalists surrounding him like ants for an interview. However, he chose to stay, to everyone's great surprise. In the end of the evening I managed to get a permission to ask him a few quick questions! What a change.
I introduced myself as a freelance journalist from Denmark. He gave me a big smile and said "aaaaa, Denmark – I like Denmark".
Then I asked: "Where did you find your inspiration for this collection?"
He replied that he often got his inspiration during the night when he was dreaming. Often he based his inspiration for the creations on an intuitive sense, and it was therefore neither rational nor concrete.
Then I continued: "If you could help predict what the biggest fashion trend is in the winter would be like, what would you then say?"
He replied that it was impossible for him to say. He said that, if he already knew the trends of tomorrow, there wouldn´t be a vision for him to strive for in the future.  He was so right… and had I been wrong in asking him that question?
I guess I was looking for an answer like; you should wear long dresses or something… but that proved to me, that fashion is so much more nuanced that that. Somehow future fashion is something flue, a riddle to be solved, a world to be constructed! And it´s not always easy to predict, whether the future´s biggest fashion-trend appears from one specific haute couture fashion-show, from an earlier fashion-tendency or from the girl on the street wearing a combination of her own.
I wonder: Who prescribe the future fashion tendency? Is it vogue, is it haute couture designers, or is it us? Perhaps a combination, depending on time and place!
I thanked him, and continued my quest to find some good representatives for the future fashion-trends, among the guests.
Weather the inspiration behind the collection came from something concrete or not, one thing was sure, there was a lot of inspiration to get from this collection.
Grap the atmosphere from the after-show here.