Steve Wood, fashion-photographer stuck in elevator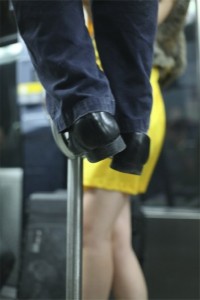 Stuck in elevator with fashion photographer
There are moments when you realize just HOW important a job can be.  If you want to be the best fashion photographer, not only do you need great talent, you also need to get the best pictures in the newspapers before everyone else. I experienced that when I got stuck in an elevator with the fantastic fashion photographer Steve Wood!
By Agent Luxe
Steve Wood has been taking pictures of Princess Diana while she was still alive, and today he covers all of the greatest fashion shows – from front- to backstage: http://stevewood.biz/
What I really adore about Steve and other recognized fashion-photographers are their exquisite humor. Not only are they able to do a fast shooting that looks like a million, they can also turn a simple situation into a funny movie scene.
First time I met Steve and his team, was during fashion-week in Paris, on my way into the metro after a runway show. Steve dragged me into a shooting, and that turned out to be one of the funniest metro-rides I´ve ever got, and the meeting with a great photographer´s personality.
After a while I bumped into Steve again, this time at the Galliano-show, where he was taking pictures backstage…he also managed to get some of the singer Prince. The show ended, and before I could count to ten, I once again found myself in one of Steve and his team´s shootings.
And the fun went on just until the moment were we all got into a small elevator next to the Louvre at midnight. Steve said "Room enough for everyone, let´s get it!" So there we were 7 people with luggage, in a tiny elevator. I just thought for a second "oh my god, what if the elevator stopped", and then it stopped. For a moment we all laughed – hilarious. Until I realized that the only way to get out, was through a tiny window in the top, and apparently it couldn´t open up more than a few centimeters.
The next issue was that, even if we managed to get out the window, we would still be trapped inside a glass-box.  I started to panic, and climbed up a suitcase in order to get my mouth up to the window. I looked down at Steve and his team and said: "For how many hours do you think we can get air in here" I asked.
Steve answered calmly: "No need to worry, we can probably survive at least 3 hours in here"! I was quite scared, and then he just added "but.. How will I get my Prince pictures out of here, I need to get those pictures send right away". While I was worrying about surviving in there, he was considering how to get his pictures out.  That´s when I realized the priority of a fashion-photographer. He was ready to die in an elevator, as long as he could get his pictures out!  Don´t say they don´t do sacrifices to get their job done!
When looking up through the window we could glimpse the shoes of people walking by upthere, but they couldn´t see us. Finely we heard a voice coming out the loudspeaker, "help is on its way".  And I can´t describe how relieved I was getting out of there! Everything can happen when you follow the footsteps of a fashion-photographer!