John Galliano theatral fashion show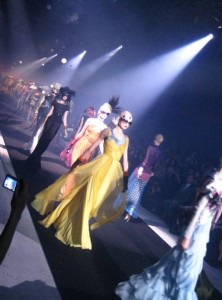 FASHION SHOW, HISTORY: John Galliano´s fashionshow 2010
During fashion week in Paris, October 2010, the Galliano fashion-show was definitely among the most flamboyant; A theater-world not to miss out on. I wondered how he had reached the top.
By Agent Luxe
It was 9pm, and raining outside, and I was 30 minutes late for the show. I jumped on the metro wearing high heels. I remember thinking "I´ll never get there in time". When I finely got off the metro, I ran through the rain, holding on to my umbrella, searching for the right place. Then I heard a voice say; "Do you know where the Galliano-show is?"  Apparently we were two searching.
The show took place in the periphery of Paris, in an old building, that you would never imagine containing a fashion show.
That´s another good thing about fashion-shows; they rarely start on time. They are waiting for everyone to get in and for them to get seated – in this case; good for me and the girl, arriving just in time to attend the show.
I sat on second row looking at my invitation; it was indicating that we were at a movie-set.
The light faded out and a sexy female voice came out of the speakers. The music started, and a large red neon light was sent down the catwalk, while balloons descended from the high ceiling. Amazing. The models entered the podium one by one.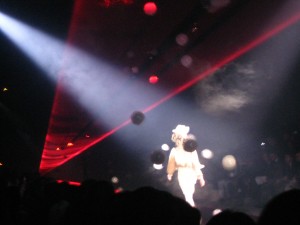 John Charles Galliano, is a British fashion designer, born 28 November 1960. He became head designer of the French fashion companies John Galliano S.A. in 1993 to April 2011.
– Head designer for Givenchy (January 1996 to October 1996), and for Christian Dior (October 1996 to March 2011).
How did Galliano make it to the top?
This history text will be based on what I could find about him, on;
http://en.wikipedia.org/wiki/John_Galliano
http://designmuseum.org/design/john-galliano
His father was a Gibraltarian plumber, and her mother a Spanish flamenco teacher. He had two sisters. They all moved to England – south London – when he was six.
Galliano was not like everyone else. He often spoke of his struggle to fit in. Recalling his early days, he once admitted: "I don't think people here understood where I was coming from." His mother would dress him in his "smartest" outfit even for a trip to the local shops. This, combined with his creative sensibilities, saw him frequently bullied at the London boys' grammar school he attended", it says on Wikipedia.
After the grammar school Galliano started studying at Central Saint Martins College of Art and Design, from which he graduated in 1984 with a first class honors degree in Fashion Design.
According to danishmuseeum.org, he found the inspiration for his first collection at Danton; a National Theatre production, on which he worked part-time as a dresser. When fashion retailer Joan Burstein, saw the collection, she was so impressed that she immediately gave the window of her London store Browns, to the fledgling designer.
Financial backup!
On the back of this success, Galliano rented a studio space in London. But for several seasons, he couldn't afford to show. Still he continued, and financial bankers believed in him.
Initially it was Johan Brun, who did the financial backing. When this agreement came to an end, Danish entrepreneur Peder Bertelsen, owner of the firm Aguecheek, took over until 1988. Afterward Galliano sought the backing of a German agent; Faycal Amor (owner and designer of the fashion label "Plein Sud"). Faycal directed him to set up his base in Paris, which he did.
Galliano moved to Paris
Galliano relocated to Paris in search of financial backing and a strong client base. He also succeeded in doing his first show in 1989, as part of Parisian fashion-week, but afterwards his showings stopped temporarily, when he went bankrupt in 1990.
In 1993, Galliano's financial agreement with Faycal Amor ended, so he did not have a showing in October – missing the season.
Help from Vogue editor-in-chief Anna Wintour
American Vogue editor-in-chief; Anna Wintour and Andre Leon Talley; European Correspondent at Vanity Fair Magazine believed in him. They took him under their wings and introduced him to; the portuguese socialite and fashion patron Sao Schlumberger – also to John Bult and Mark Rice; financial backers of venture firm Arbela Inc.
According to Wikipedia it was through this partnership that Galliano received the financial backing and high society stamp needed to give him credibility in Paris. But according to designermuseum.org this was a rusty key: Galliano did what he could without much money:
"The supermodels of the day – Kate Moss, Christy Turlington and Naomi Campbell – modeled for friendship rather than their customary five-figure fees. There were only 17 outfits put together at the last minute – all in black. (A few bolts of black fabric were all Galliano could afford.) But what outfits. The show was a monumental success – John Galliano had sealed his reputation as one of the great designers of his time." – designmuseum.org
Designer for Givenchy
One man that seriously believed in Galliano's talent was Bernard Arnault; chairman of the luxury conglomerate LVMH.
In July 1995, Arnault appointed Galliano to be the designer of Givenchy. So 21 January 1996, Galliano presented his first Givenchy couture show, at the Stade de France. The collection received high praise within the fashion media. Some of Galliano's designs for Givenchy were even licensed to Vogue Patterns.
Less than two years later, on 14 October 1996, LVMH moved Galliano to Christian Dior. While the vacancy at Givenchy was filled by another British designer; Alexander McQueen.
Designer for Dior
He has been quoted as identifying his love for theatre and femininity as central to his creations. According to designmuseum.org he said: "my role is to seduce". He had gone so far as recreating some of Dior's period clothing for Madonna in the movie Evita. He has also credited Standard Oil heiress Millicent Rogers as an influence.
But on 25 February 2011, the carreer of Galliano took a new turn. Dior suspended him, after his arrestment at a parisian bar, where he assaulted some Jews, with some anti-Semitic comments.
People have afterwards been questioning whether it was a theatric behavior, the alcohol or his real opinion.
According to Wikipedia, Natalie Portman, the American Jewish actress, whose great-grandparents died in Auschwitz, expressed "disgust" for Galliano's anti-semitic comments. She had an endorsement contract with Dior for its Miss Dior Cherie fragrance.
Stylist and costume designer Patricia Field defended Galliano, by sending an email to 500 friends, blogs and media. She dismissed Galliano's rants as "theatre."
In 2011: Bill Gaytten was named creative director of Galliano SA. http://www.johngalliano.com/main.asp
One thing is for sure; Galliano has a great talent, and he continued even though difficulties appeared!!!  People saw his talent and believed in him. I guess, that´s one of the ways to success; talent, working on it, and keep on believing in it! He has shown some fastastic creations.