The list of great french wines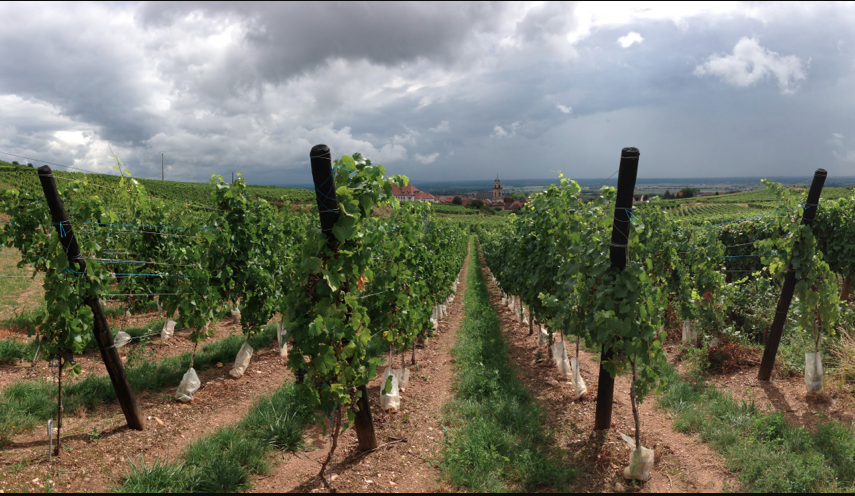 "La route des vins" in Alsace and then Bourgogne. Driving through the vineyards, tasting some of the greatest French Grand Crus, I´ve collected a list of great wines. Here is the list that you can print out for the next time you are going wine shopping for a luxurious meal.
From 

"

Maison Arthur Metz

" in

 Alsace:
     – Perle Noir 2013 (Crémant) has been voted to be among the top 10 crémant in 2013
    – Sporen Gewurztraiminer 2008 (a sweet white wine, very original with notes of rose and mango. Perfect with smoked salmon, curry dishes, Asian cuisine with chili and grilled fish.)
    – Vendangens Tardive, Gewurztraiminer (a very sweet white wine, good for dessert)
   – Steinklotz, Pinot Gris 2011 (a Grand Cru white wine. In general the pinot gris grape is a bit more full-bodied and fat than the Riesling. With its soft tones of honey and nuts, it is good with calf and poultry.)
From Alsace in general: 
–       Pinot Noir Rosé 2012
–      Muscat (A light and fresh wine. Well suited as an aperitif. Good with white asparagus, shrimp and easier fish cuisine.)
–     Riesling (one of the world's best white wine grapes, that has been cultivated under its most prefered conditions. It´s in close competition with the famous Chardonnay from Bourgogne if you ask wine-connaiseurs. From year 900 this grape was cultivated along the Rhine in Germany and Alsace, and whis is probably from where it´s name arrised). It is in general a dry grape that shoud be enjoyed cold, with fish-dishes and white meat.
From Beaune in Bourgogne 
Always keep an eye on the label when selecting your wine. The taste of the grape completely changes depending on the ground, the year and the area. Watch out for the premier Grand Cru, it´s the best of the best.
–       Givry 1. Cru Baraude 2011 cl. Mareshald (Red wine)
–       Savigny les Beaune vv. 2010 Taupenot –merme. (Red wine)
–       Chambolle Musigny 2007 (my favorite, with an intense aroma of cherry)
–       Saint Romain 2010 (Red wine)
–     Pinot Noir (A red wine´s grape. full-bodied, dark with vibrant tones of cherry and raspberries.)
Amongst the best vineyards in Bourgogne you have: Le Montrachet and Le Chambertin.
From Sevigny-les-Baunes
–       Mersault-Genevriere Premier Cru 2006 (A really great Chardonnay white wine)
–       Volnay Premier Cru 2002 (a soft red wine)
–       Pommard 2006 (really good, strong red wine).
Both Volnay and Pommard are made from the same Pinot Noir grape, and though the distance between the two wine fields is short, the taste of them is as different as night and day. The reason is that the Ice-age created two different types of underground on the two fields where these grapes are cultivated, and that result in a different taste of the wine.
The same is the case with the Meursault and Puligny-Montrachet. They are both made from the Chardonnay grape, but different because of the underground and the degree of toasting in the barrels that are used to prepare them.
From  "Domaine Borgnat", Escolives Sainte Camille in Bourgogne: 
–       Bourgogne Aligoté, Chardonnay 2012 (A fine and elegant white wine that can be kept 1-5 years)
–       Coulanges Blanc, Chardonnay 2011 (a fine and light white wine that can be kept 1-5 years)
–       Chablis, Chardonnay, Domaine Garnier & Fils 2011
–       Coulanges-la-vineuse 2011, tradition Pinot Noir (A delicate, fruity and spicy red wine. Can be kept 2-8 years)
–       Coulanges "tete de cuvee", Pinot Noir 2010 (An intense wine. Both red and black berries are found in this wine and gives it a fine structure. Drink it between 3-12 years of storage)
–       Chateau d´Escolives, Pinot Noir (2009, 2008, 2004) (2009 is my favorite. This red wine is a selection of assembled ancient Caesar Pinot Noir grapes. When aging this wine will be perfect for tasty cheese)
–       Clémant Blanc de Noir (A clémant made on red grapes, but they have been under a quick pressure which result in the white color from the inside of the grape)
–       Ratafia de Bourgogne (A very fruity liquer with a taste of cherry and plum. Ratafia is often drunk as an aperitif, but accompanies well a chocolate and cherry dessert)
Sheers and "Bon appétit" 🙂