Gabrielle Jones, French champion in dessert 2006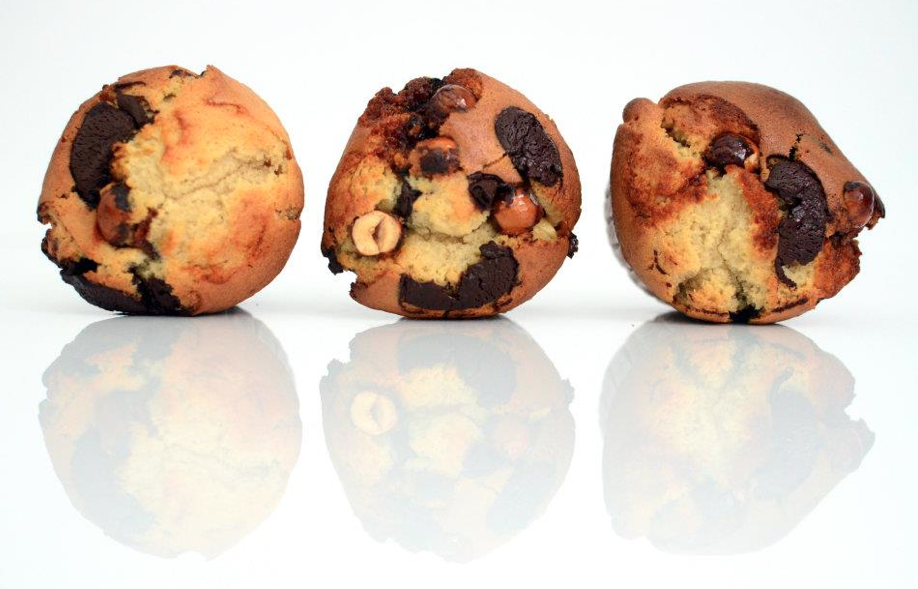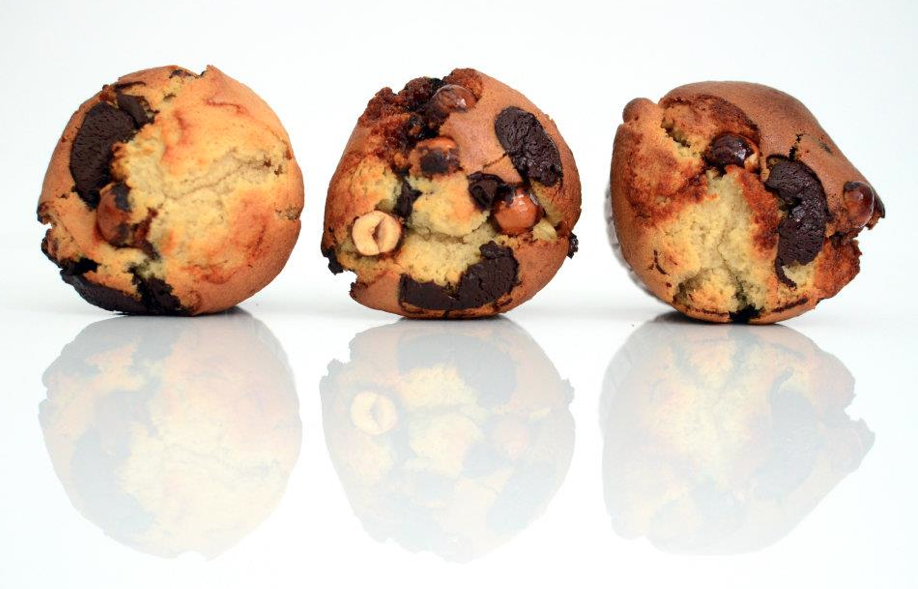 Today I met a friend of mine, Gabrielle Jones, for a cup of coffee in one of Paris´ great coffee shops. Gabrielle was voted French champions in dessert 2006. She told me about her way to success, and revealed a special recipe – you can find it here.
Gabrielle was already well installed when I arrived – sitting in the corner with her Mac! She had told me to meet her at "Telescope" (5, rue Villedo) since the filter-coffee would be good here: not easy to find good filter-coffee in Paris. Normally when you say coffee, you get espresso!
Apparently there had been a Danish breakfast event just before I arrived…so there were still people having Danish pastries when I ordered my coffee.
Next to us sat a group of friends… One of them turned out to be a coffee-expert! Interesting for a next article I thought, so before leaving the coffee-shop, I would go introduce myself…
Gabrielle had brought some homemade chocolate/ banana muffins – YUMMY!  (See her picture below). Delicious…and with the fresh Kenya-coffee it couldn´t get much better. So there we were; ready to talk.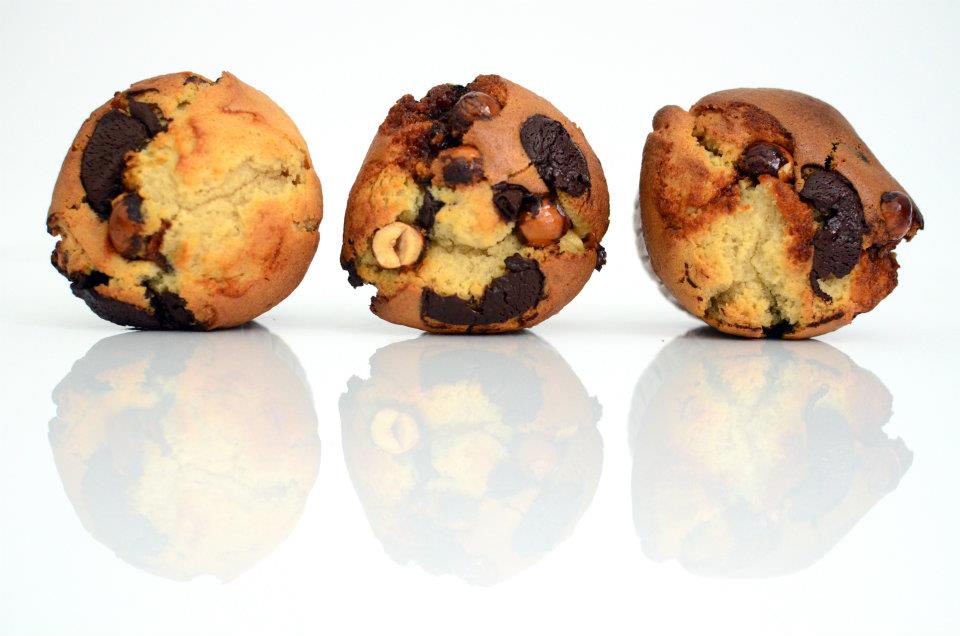 Gabrielle Jones´ way to success
In 2006 Gabrielle won the French championship in Dessert (in Venissieux March 22-23) but before that she studied at: Lycée hôtelier du Touquet.
How did you get to participate in the competition? I asked her
I send them my files, like many other people from all over France (approx. 100). 64 of us were selected for qualifications… and after that we turned out to be only eight candidates left for the final.
What do you think made you win the competition?
I worked intense for 5 months; during weekends / holidays, night and day…and when I qualified for the final, I made a pretty colorful and elegant dessert, made of raspberry, pistachio white chocolate and star anise. I think what made me win was: my perseverance, passion and hard work.
I know that you worked at Ritz hotel in Paris for a year after that. How did you get a job there?
I met Michel Roth, executive chef at the Ritz, in a competition. He invited me to join his team, and after that it all happened very quickly.
What was it like to work there? What did you do?
The year at the Ritz was very intense. I mainly did the desserts for the l'Espadon restaurant. The Ritz was a great opportunity for me to follow the head of dessert: Eddie Benganhem. He was pretty amazing. I learned a lot at his side.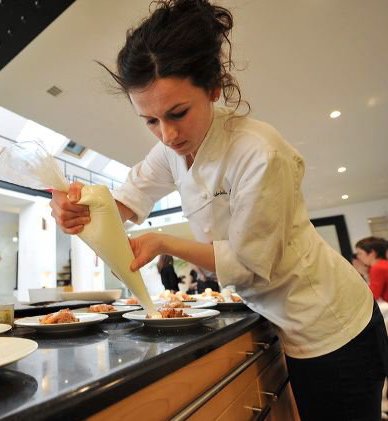 What do you think about the Ritz?
The Ritz is a great institution in the luxury hotel industry.
What is luxury to you?
Luxury is the meeting of quality, expertise, rarity and sometimes the price.
What is a sophisticated lifestyle for you?
Sophisticated is to me more about the appearance, and not necessarily about quality. To me it is synonymous with something detailed, refined and precious, it´s more something visual and material.
I know that you went To New York after that year. What did you do there?
I worked for a few months as a cook for a family living between NYC and the Hamptons. I organized all their meals and celebrations. We ended up building a strong friendship that brings me back to visit them a couple of times each year.
Then you came back and worked for the company Boiron: specialized in fruit pulps and frozen fruit?
Yes, I helped them create recipes.
Today Gabrielle works as freelance pastry chef. She creates menu-cards and does council for restaurants and other professionals, who want to improve their dessert menu, techniques, or need help on specific recipes.
I also teach pastry to children at: Atelier des Chefs. They have 2 schools in London.
In her spare time Gabrielle combines her passions for food, and photography… I really love what she does (see some of her pictures below)
When I started combining photography and pastry, I found a way of expressing myself. In that way I can use lines, shapes, and colors. Create emotion. It all forms a whole, a balance. They just lack the taste: "Have you ever tasted something so beautiful – Even before It has entered your mouth?" http://mysweetaddictions.com/
How did you manifest your dream, and have you had any challenges?
To become good there is only one way, and that is to work hard: long hours in the restaurants, very military working conditions with leaders who can sometimes be very temperamental. You must cling to everything you learn to grow, and become better every day. Even if I felt like dropping out sometimes I couldn´t… I was too passionate about it, so after a while I would start again.
How would you describe a typical day for you?
There is no typical day and that´s exactly what I love about my life: Every Day / week / month / year is different. This is the item about working freelance.
The only routine I have is the huge breakfast I prepare every morning.
What´s your favorite pastry place?
The sugar plum cake shop: An American wedding cake bakery – by M Cardinal Lemoine. They make the best carrot cake in Paris.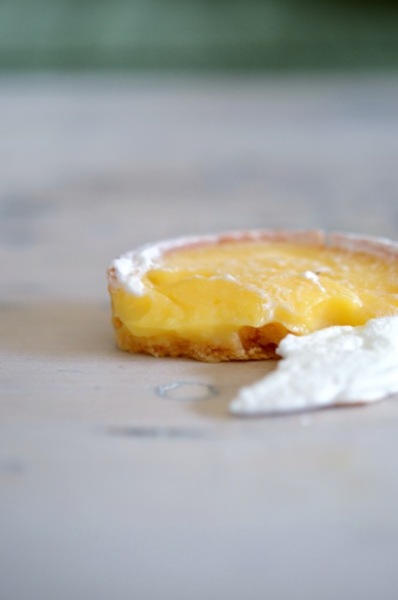 Special recipe from Gabrielle
LEMON PIE LIMONCELLO, Green Lemon Meringue.
– A roll of cookie dough
LEMON CREAM
– 150 grams of lemon juice (about 4 lemons)
– 150 g butter
– 4 eggs
– 4 egg yolks (reserve the white for the meringue)
– 150 gr of caster sugar
– 40 g of limoncello
GREEN LEMON MERINGUE
– 3 egg blanks
– 120g caster sugar
– 1 lime
Butter a pie dish, and add the dough, prick the bottom with a fork and bake at 180 ° for 20 minutes. (The pie has a diameter of 8 cm)
Wash the lemon and the zest with a peeler. Press them to get 150 grams of juice. In a saucepan you combine the juice, zest, eggs, yolks and sugar. Cook over very low heat, whisking all the time until the cream thickens (about 4 minutes)
Once the creme is cooked, you strain to remove the zest, and then add the butter and the limoncello. Mix for 1 minute.
Put the cream directly into the baked pie shell. Keep in fridge for 2 hours. Before serving the pie make the meringue.
Wash the limes and take off all the zest (that you will use), but be careful not to remove the white skin as well, because it is bitter. Beat the egg whites on medium speed until they become stiff and when they are stiff, add sugar and the zest.
Decorate the pie with the meringue and caramelize with a blowtorch. For a little more tart, remove the supreme lime (the flesh) and use to decorate the pie.
See her things at: www.mysweetaddictions.com