Lacime weekend cure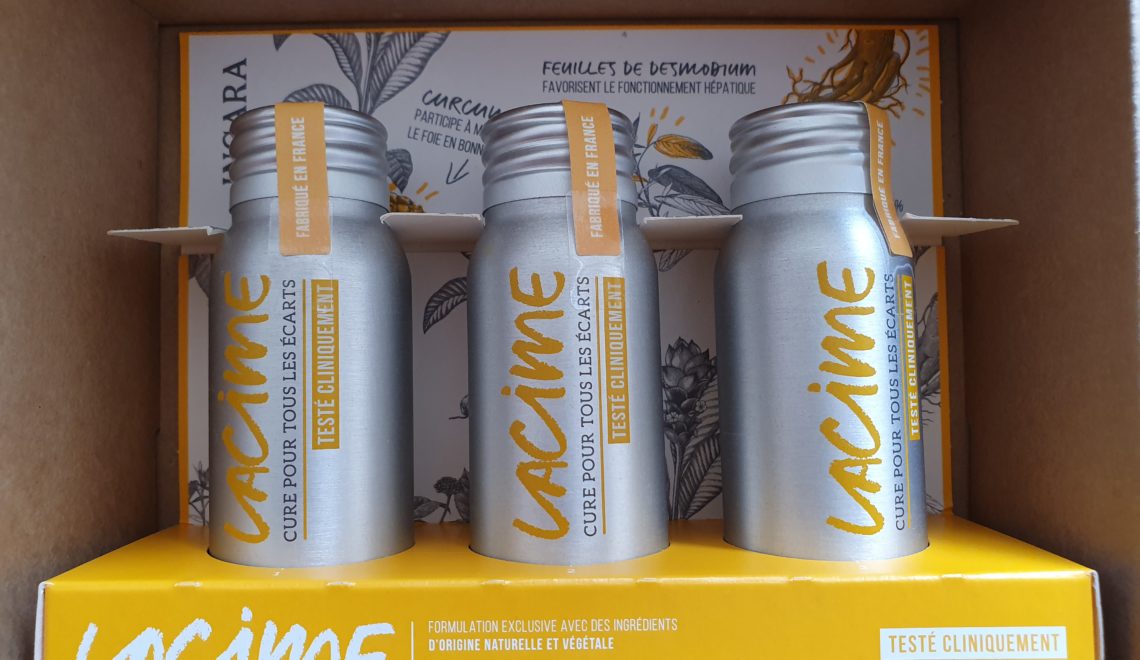 I've just tested a 3 days wonder-cure based on plants; Lacime. I was just about to get a cold and thought I would try LACIME. I'll tell you how that turned out…
It was Friday morning, I woke up and didn't fell well at all…which is just not possible when you have two small active girls in the house! So I decided to try the Lacime weekend cure…which means one vial each morning: Friday, Saturday and Sunday.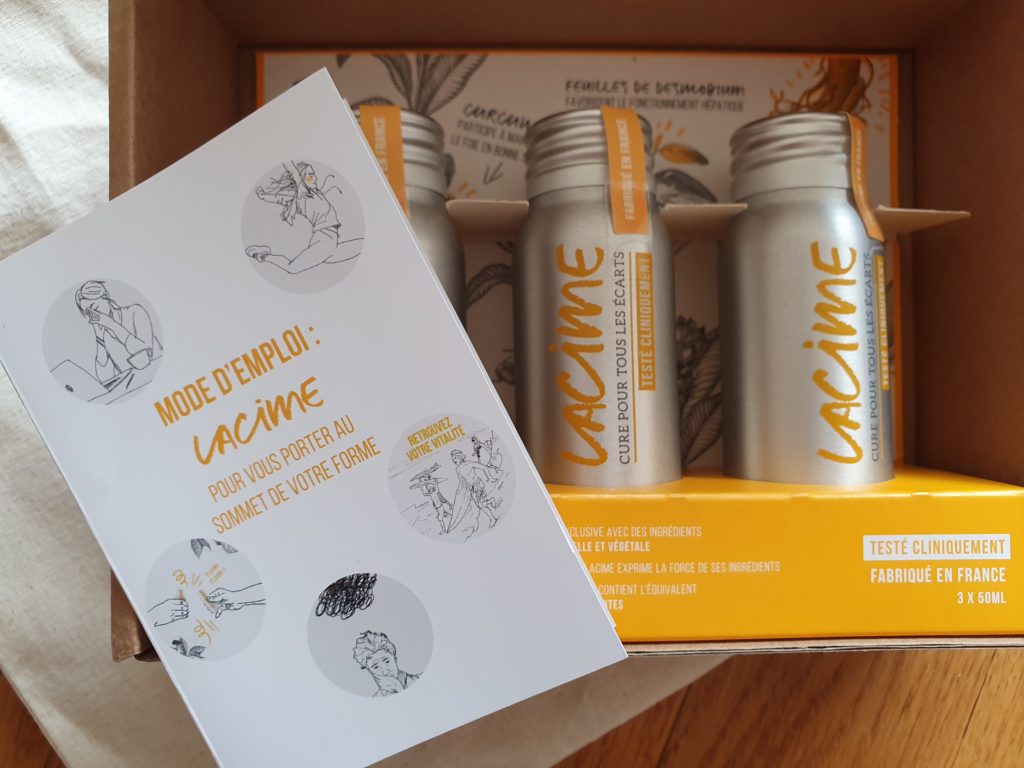 Their powerful natural assets combined should help one stay on the top, so I was intrigued.
To obtain the best result it would be better to be fasting, but I can't live without food for one day, so instead I drank it 20 minutes before having my breakfast…and I was extremly surprised about the result.
I didn't feel sick any longer…I didn't feel a huge boost either (probably because my body was tired) but I experienced a great balance and joy that made my week-end absolutely great.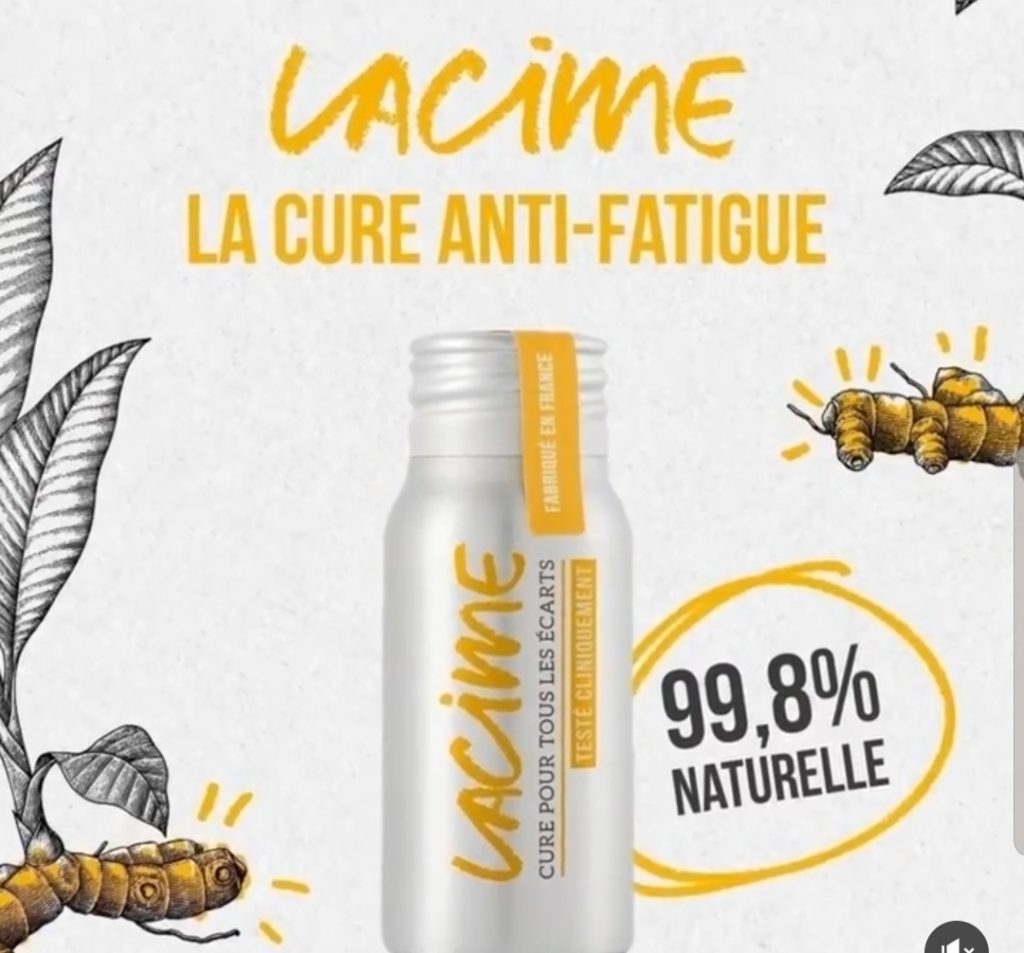 What is the Lacime cure made off you might ask?
The Lacime cure contains 5 main ingredients that are good for your body!
Ingredient 1: Curcumin Longa…
Curcumin has a long medicinal tradition!
We find the trace of its use in traditional Chinese medicine in writings dating back more than 4000 years before our era. In the West, however, it is only relatively recently that interest in it has begun.
To optimize the effectiveness of curcumin contained in Lacime, it has been liposomated to make it more easily assimilated by the body! Without this, curcumin is not soluble. The World Health Organization (WHO) recognizes its action in the treatment of digestive disorders such as upset stomach, nausea, loss of appetite or feeling of heaviness. Curcumin is also a powerful anti-inflammatory and antioxidant.
Ingredient 2: Ginseng…
Ginsing is an adaptogenic plant! It helps your body adapt to the different types of stress it undergoes.
Ginseng is well known since antiquity, and for good reason: it enjoys an unmatched reputation in traditional Chinese medicine. Its scientific name begins with "Panax", which in Greek means "remedy for all evils".
Asian ginseng is the best-known variety, but it is American ginseng (Panax quinquefollius), its cousin from North America, that is used in LACIME. Rarer, more sought-after, and recognizable by its 5 leaves. Although very close to Asian ginseng, this species has an important feature: its high content of the active ingredient ginsenosides.
Ginseng must contain enough ginsenosides if it should work. That of LACIME contains mininum 15%, which is 2 to 3 times more than the standard qualities.
The consumption of ginseng develops a battery of functions which improve the physical capacities and allow at the same time to act on the central nervous system.
Its anti-inflammatory and antioxidant properties has been recognized in Western medicine. It protects the liver from damage caused by alcohol absorption, improves cognitive functions, reduces fatigue and considerably improves resistance to various stresses in the body.
Ingredient 3/ Desmodium
If you havn't heard of desmodium yet it is normal. Yet it contains in its leaves treasures of natural assets that are among the best allies of our liver…to fight against the effects of toxins on the liver.
The desmodium used in the formulation of LACIME is the desmodium adscendens.
This plant grows in various parts of the globe including the Amazon, but it is originally native to West Africa. The people of Ghana or Cameroon have long used it in their traditional medicine, where desmodium is a known remedy against liver and digestive diseases.
In addition to its antioxidant and free radical properties, desmodium fights the toxic effects of alcohol or the harmful effects of a heavy meal on the liver. It has even been proven effective in the treatment of acute hepatitis.
Ingredient 4/ acerola
Acerola is a natural vitamin C concentrate, a pure vitamin bomb. It has a reputation for being a "super fruit". It comes from the tropical regions of Central America and North America, and is known for containing 10 to 40 times more vitamin c than an orange!
This fruit is also rich in phosphorus, calcium, B vitamins, and various antioxidants. It is precisely these antioxidant properties that allow it to prevent inflammation of the liver especially due to alcohol, to fight against cellular aging by minimizing the effects of free radicals, and even according to several studies to slow down the evolution of certain cancers .
Ingredient 5/Milk Thistle
The milk thistle removes the spine of the liver!
Antioxidant recognized that inhibits free radicals, thus protecting the body and especially the liver.
Milk thistle is a plant well known throughout the Mediterranean, and since ancient times. The Greeks already used it to treat their hepatic and biliary disorders. We can also eat the different parts of the plant, once cleared of its spines, in the manner of wild asparagus (stems), spinach (leaves), small artichokes (fruits) or even coffee (seeds roasted). Proof that everything is good in the thistle.
The active ingredient in milk thistle is silymarin, and more specifically one of its components: silibinin. Silymarin and silibinin have a recognized antioxidant effect that inhibits free radicals, thus protecting the body and especially the liver. Milk thistle acts as a detoxification agent, which treats liver diseases. According to several studies, it could also potentiate the action of certain anticancer treatments.
To sum up, Lacime should make it possible to keep your performances in all circumstances. The cure should help you keep control of your physical and psychological state. I really recommend it!
In the long run, Lacime should help you fight against fatigue and stress, detoxify your body deeply and improve your immune system.
Buy it here