Pierce Brosnan & Jessica Alba, the Versace show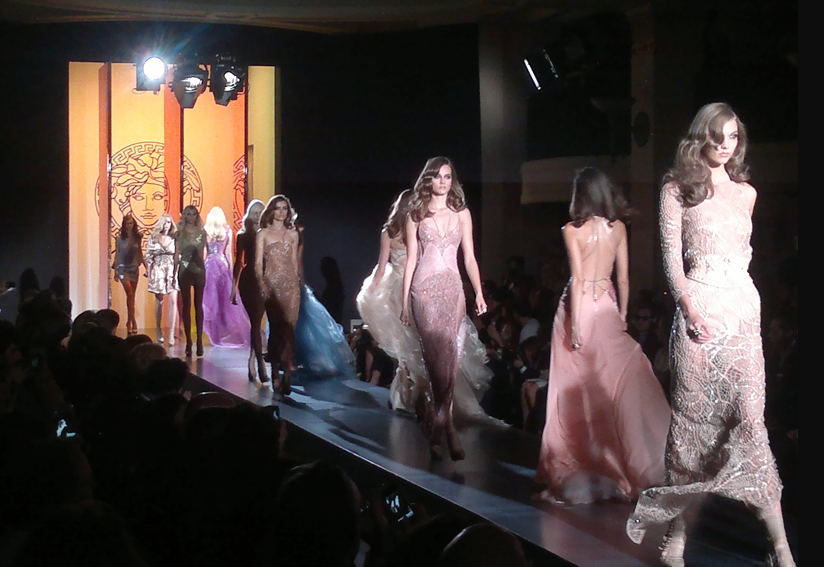 Tonight, Sunday 1st July 2012, Versace started Paris fashion week with a bang of an Haute Couture show. The show took place at one of Paris' most famous hotels, Ritz, located at Place Vendome in Paris. I attended the show, together with; Mr. Bond, Mr. James Bond (Pierce Brosnan) Jessica Alba, Sharon Stone and Anna Wintour!
Pierce Brosnan & Jessica Alba, the Versace show 
It´s great to attend a show like the Versace Haute Couture fashion show in Paris!
I arrived at 7.30pm. Out-side the Ritz, celebrities such as Sharon Stone arrived in their big cars, and photographers bathed them in flashlight no matter which way they looked.
We are fascinated by celebrities that is just the way it is!
We open the magazine and think "wow, nice look" … Sometimes we admire them; and the fact that they have managed to live out a scenario that for many others only remain a dream … how did they do it?… how did they get to live the life that seems so glamorous? ".
They have probably found their niche and used their talent … and I think that they, like everyone else, had their challenges to overcome to achieve success! But the difference between them and so many other people is, that they have overcome the challenges, and worked on their talent – and I think that that would be a good reason for the fascination.
On my way through the luxurious hall of Ritz, in direction towards the showroom, I met the adorable man; James Goldstein (fashion icon living in LA – in the house where Charlie's Angels was taped).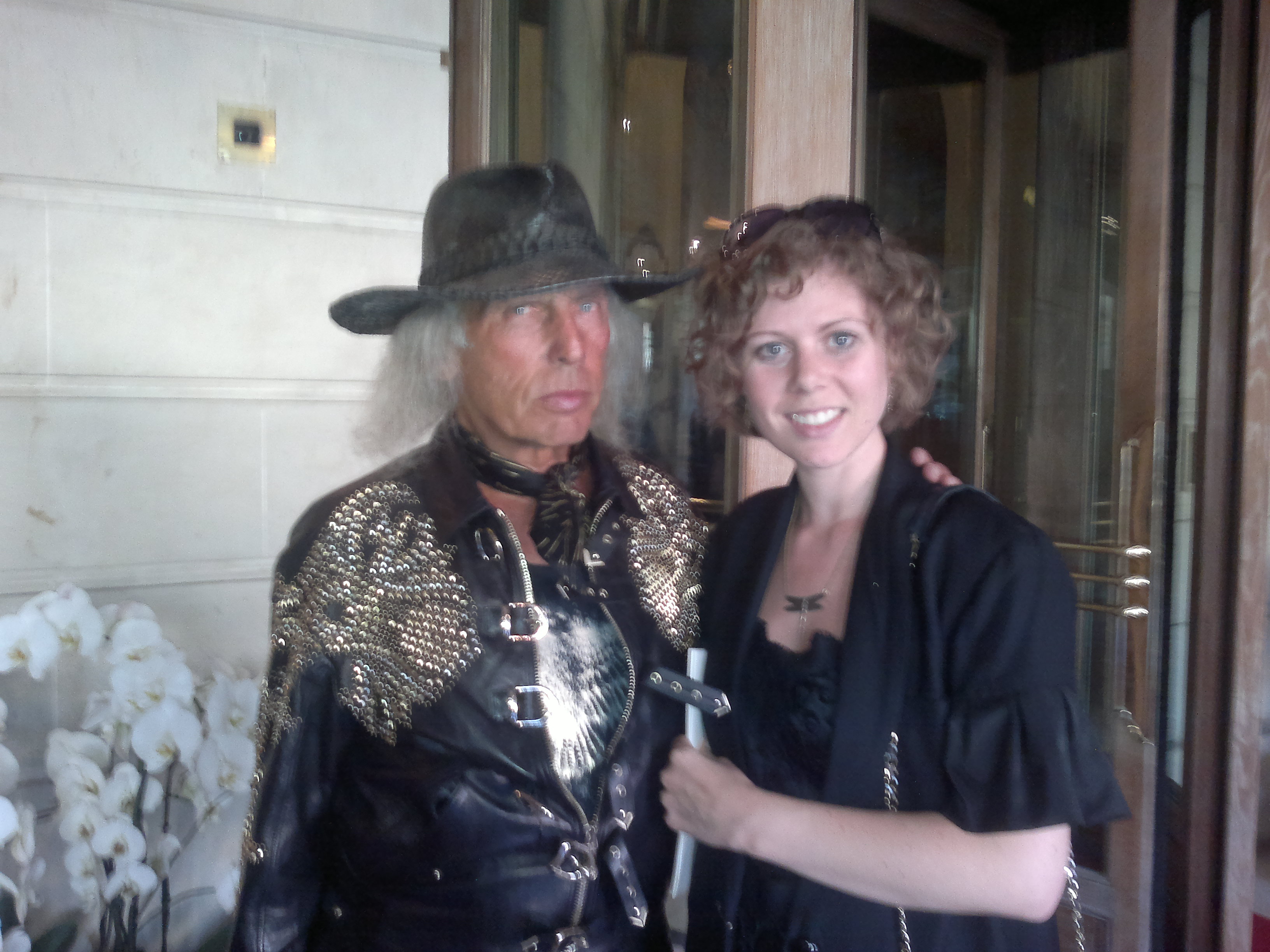 James Goldstein
I asked him; what is luxury to you?
He said: "The finest quality, whatever product it might be".
Where would you go, if you had to find inspiration? He replied: "I would find it in my house in Los Angeles!"
Not only is James a great fashion-icon, attending the biggest shows worldwide, he is also very kind – the kind of person that everyone would feel comfortable being in company with!
We went into the room and found our seats. The room was already almost fully booked. Photographers were lined up, waiting for the show to begin, and I was not surprised to find Anna Wintour (editor-in-chief of American Vogue) seated on first row. Also she is a woman working really hard to show the newest tendencies.
The show could begin. Finely we could see the collection that some people have spend months on preparing… Imagine what it takes to create a collection like this: To find the right tissue, the idea, and the right people to create it etc. A huge work… so that we can open up a magazine, and only admire the result of it! I would like to give applause to the people behind it as well. 
This time, the designer had chosen to create dresses in weightless silk-fabrics…that material gave a beautiful floating effect when the models moved.
This season´s Atelier Versace collection was built upon the idea of deconstruction and reconstruction in all its forms. It had been inspired by the imagery and decoration of tarot cards, and powerful symbols such as the sun, moon and world. The elements of these tarot cards had been rendered and embroidered as though seen through the eyes of Pablo Picasso, giving them an abstract feel.
Mr. James Bond
A huge crowd of photographers, pushing each other back and forwards. I got closer to see what happened, and there he was: MR BOND – MR JAMES BOND (Pierce Brosnan) on first row! He might be an elder gentleman by now, but none the less extremely handsome and charming, ladies, I can tell you; I do understand why he was elected to be bond-man … but not only because of his charm…also because of his great talent to act! (You can click on the pictures to see them better).
Not far away from him was Jessica Alba and Sharon Stone – All there to attend the great Versace-show.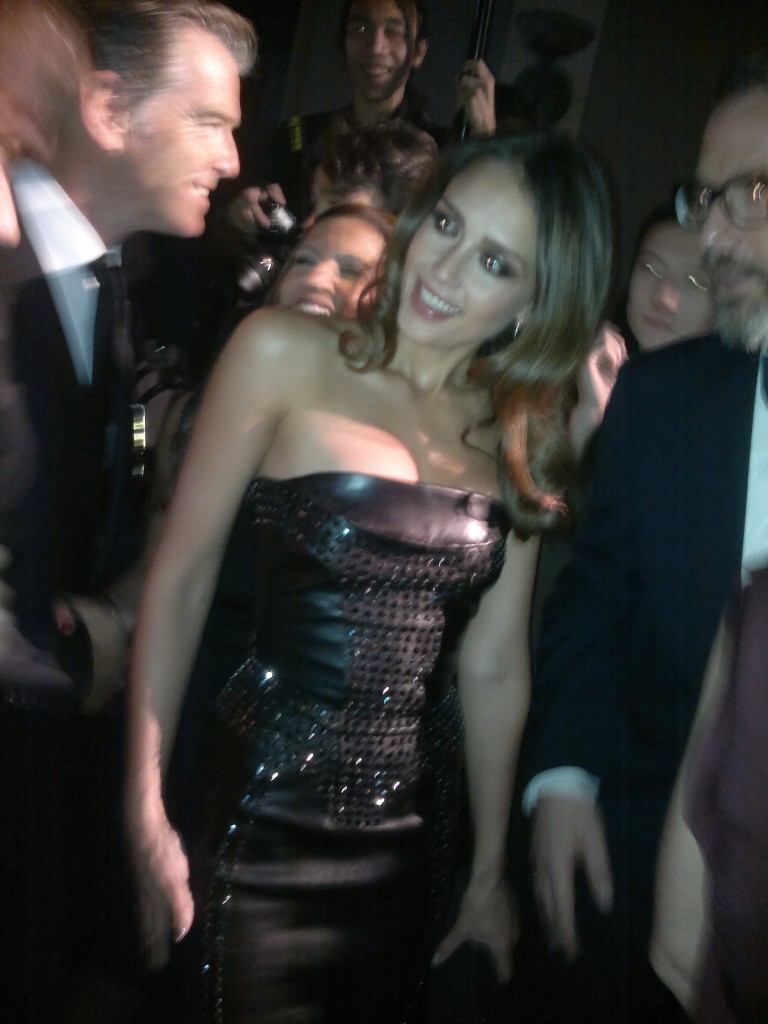 Mr. Bond & Jessica Alba also saw the Versace-collection 2013.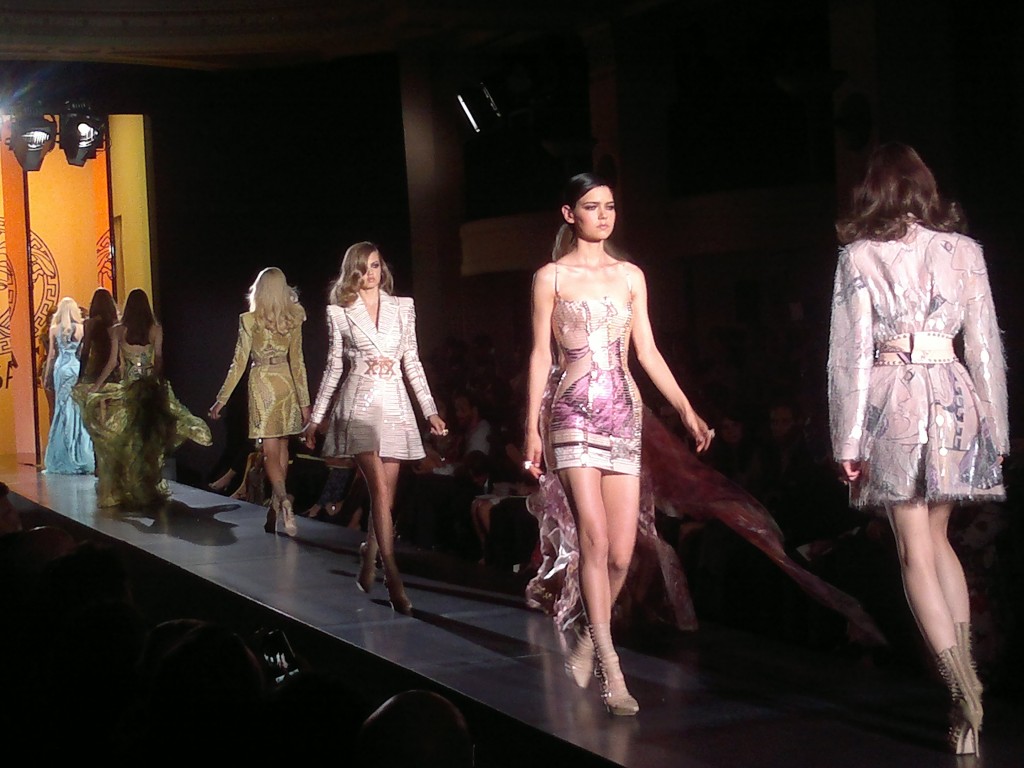 As the show ended, Pierce Brosnan got back out into the black car and drove away. The last thing I saw was that he rolled down the window, and waved one last goodbye!