Interview with Herve Léger, famous designer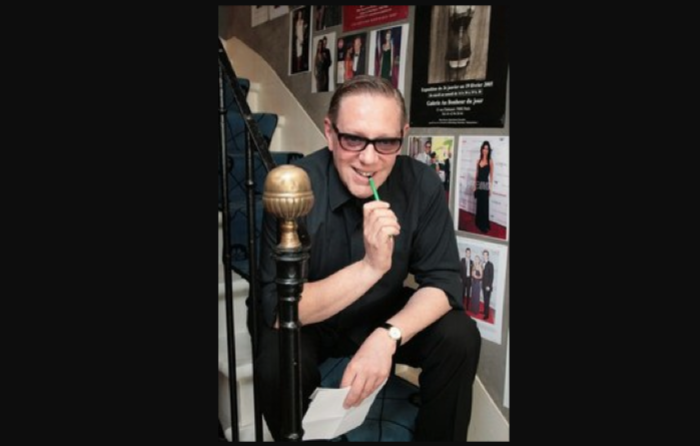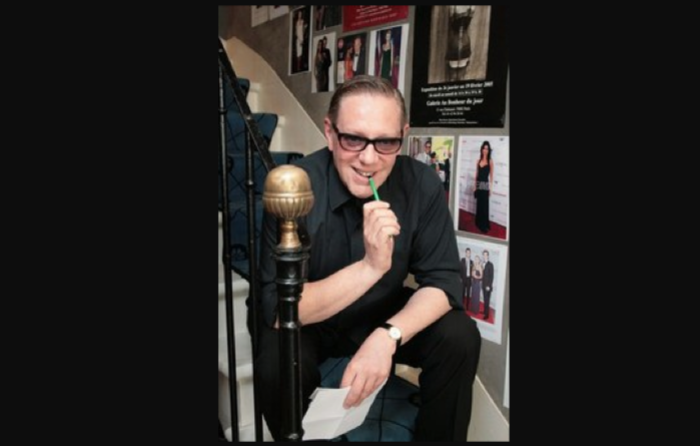 During fashion week I went to see the new collection of Herve L. Leroux and had the chance to talk to Herve Léger (the man behind the brand); about his collection and luxury. Herve has been working as Karl Lagerfeld's assistant in the 80´s and is today known for his amazing bandage evening dresses. Read the incredible story of how he has overcome some great challenges and still succeeded.
Article and pictures by Julie Johansen
About Herve Léger
For you that aren´t that familiar with Herve Leroux, I can tell, that he was born in North of France in Bapaume, and went to Paris to study "Sculpture and
 Art History". But dropped out in 1977-1980 to start as hairdresser instead.
In an interview with filep´s favorites he said: "It was the 70's and France was all about manifestations at the time and intense political changes.
As students, we were on the streets demonstrating and I wasn't learning a lot since everything was on strike. I also wanted to be independent from my parents and wanted to do something by myself, to work. I am very good with my hands; I am a craftsman and can do everything with them in terms of creation so I decided to be a hairdresser"
After that Herve decided to start as a hat maker at "Mod´s Hair". It was in a time where people would easily met. Not like today where the fashion world is a closed industry.
Worked as Karl Lagerfeld´s Assistent  
To filep´s favorites magazine he said: "I met Karl Lagerfeld at the house of a journalist friend and something happened immediately. We started talking about corsets (at the time I was fascinated by corsets)."
"So that was on Saturday and on Monday my friend from "Woman's Wear Daily" called to say " Karl wants to see you". So I went with a few sketches and he said, " Well, I don't care about your sketches, I'm looking for an assistant at Fendi in Rome" and I said, "Yes!" So by next Friday I was on the plane flying to Italy. Then I went to Chanel for one year and worked for him until I was fired."
The company: Herve Léger 
It must have been a great adventure! In any way, it let him to open his first boutique in Paris in 84, with dresses and hats. And in 1985 he founded his own company 
and label Herve Léger.
He continued to work as a 
freelance designer Haute Couture at Lanvin with
 Maryll Lanvin. He also designed accessories for Daniel Swarovski and
 Charles Joudan.
But his real career, if you ask him, started in the 90´s when he created his bandage dresses. They made his brand 
internationally famous.
Famous for the bandage dresses
He had an ability to enhance women bodies with his unforgettable bandage dresses.
You've probably seen them worn by celebrities?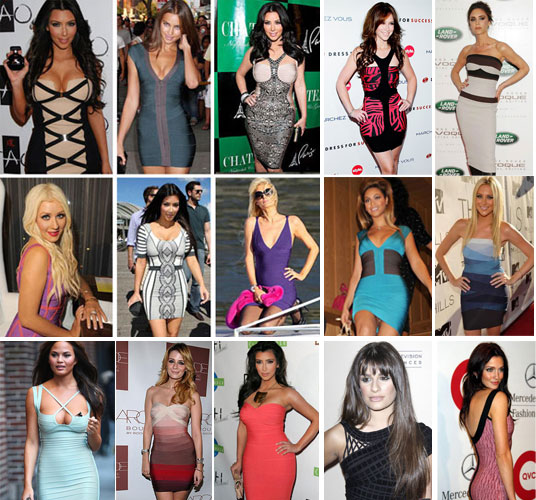 But in 1999-2012, unfortunately Herve Léger lost control of his company and of the commercial use of his name, because of a bad collaboration with some business-partners.
But he didn´t lose faith, instead he started to design ready to wear, hosiery and
 swimsuit collections for Wolford.
A new start for Herve Leger
Today he is back under the name 
Hervé L. Leroux.
He has created a new concept of draped jersey dresses made to measure in his workroom. The dresses are hand made for private clients and sold in a few selected stores in the world.
He has opened up his boutique: Hervé L. Leroux,
 32 rue Jacob, Paris 6ème. And this was the one I visited during haute couture fashion week 2013.
In this mythic place where once lived the interior designer, Madeleine Castaing, he had displayed 12 of his couture dresses: draped dresses in a pure and graphic manner. This was an opportunity for journalists like me, and for buyers to come and see his latest work:
Custom made pieces created for women addicted to his ultra feminine, glamorous, inimitable style. Dresses with precise cutting, and a timeless look that sculptures the body of the women
A journalist asked him right in front of me:
"We haven´t seen much of you for a long time, have you been out of business?"
He said: "No, I haven´t been out of business, I have just been working and now I think it´s time to show something again".
When he was about to cross me, I had the chance to introduce myself and have a quick talk to him.
When I asked him about the collection he said:
"Colors are very important to me, and especially to make dresses that will make you dream. To me it is the idea of creating a sculpture."
I asked him: "What is luxury to you?"
He said: "Luxury is dreams: something everyone has…they need to dream. As long as you have something to dream about, you´ll have it one day".
"What do you think has made you succeed as designer?"
He answered: "Work and passion! I am very peaceful and happy today because of the things I´ve done."
He certainly looked happy and I think there is an enormous lesson to learn from this story: To have hopes and dreams, to follow them, and continue even when things seem bad. In the end of the tunnel there is always light!