IDA by Denny Imbroisi – A top chef restaurant in Paris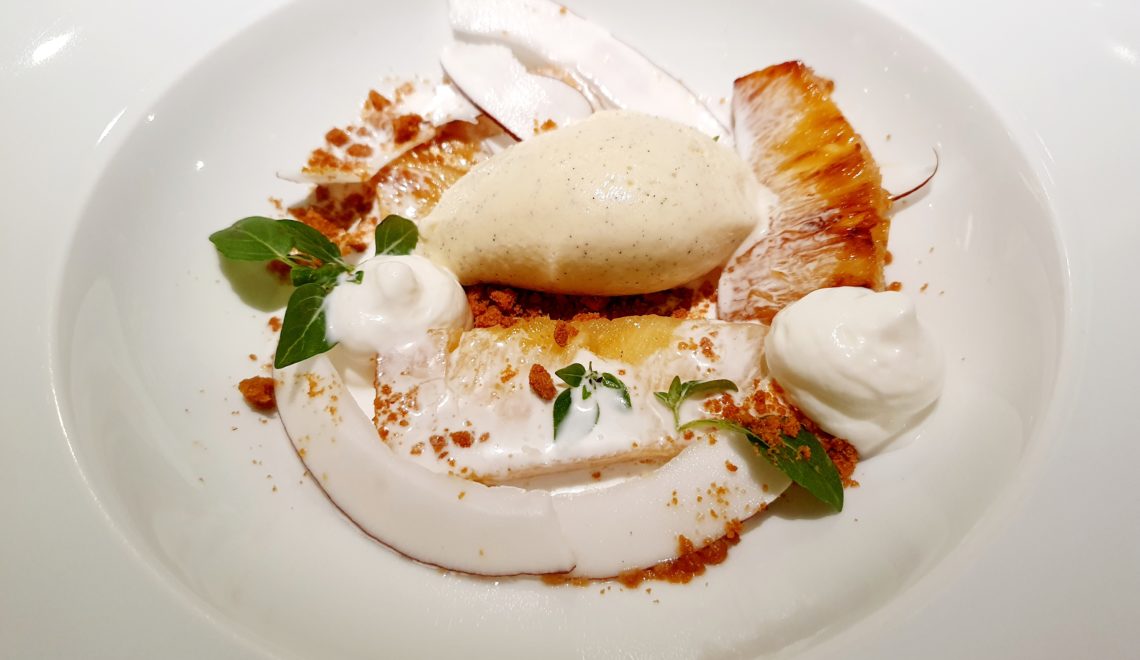 After watching the TV show "top chef" in France, I have dreamed of visiting Denny Imbroisi's first restaurant IDA in the 15th of Paris. So I was extremely happy when it finally happened. Discover it with me here.
IDA is a fabulous little French / Italian restaurant by 'top chef' Denny Imbroisi. A cozy little bubble and hiding place for the Parisian bustle. Here you can enjoy delicious and creative dishes. A perfect combination of French elegance and Italian gastronomy.
Inside you will find a refined and intimate setting.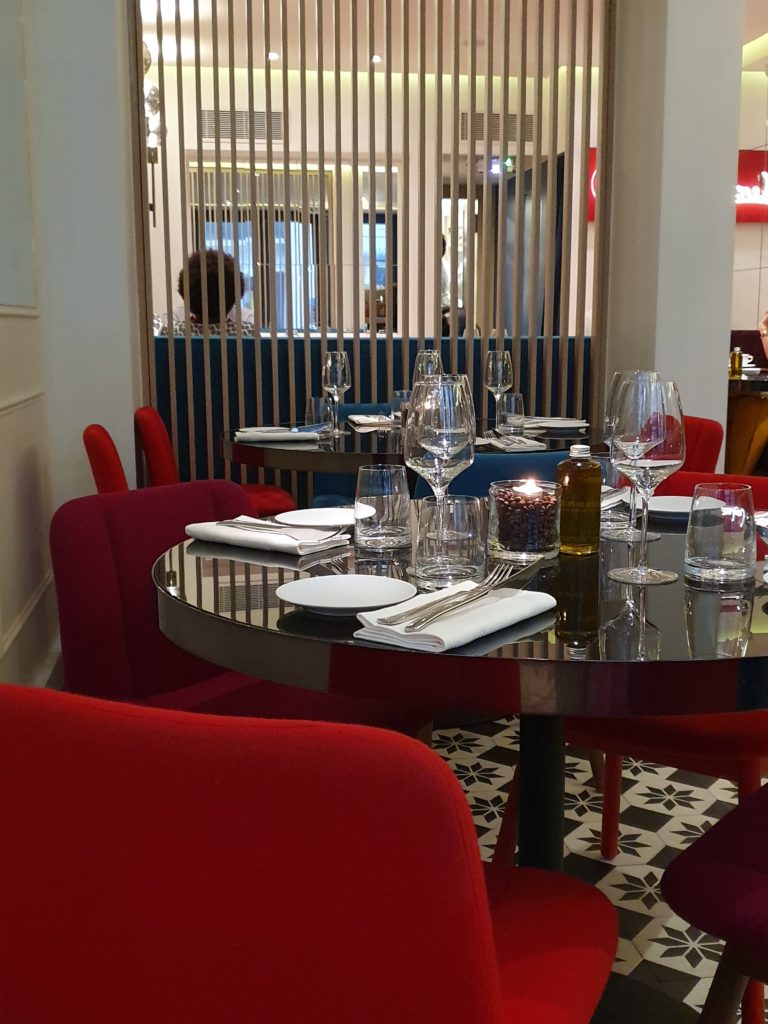 The beautiful contrasts of strong red and black colors immediately caught my eye … and when the same colors appeared in the dishes later, a beautiful connection was created.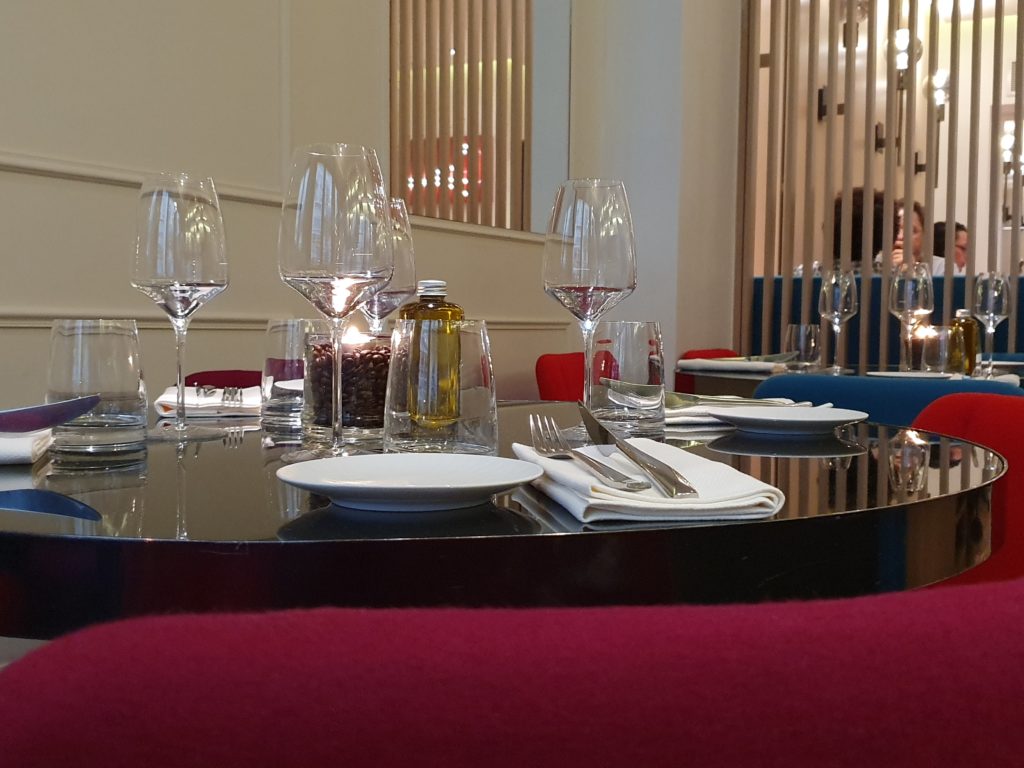 While looking at the menu, I enjoyed a glass of Champagne blanc de blanc and a Spritz.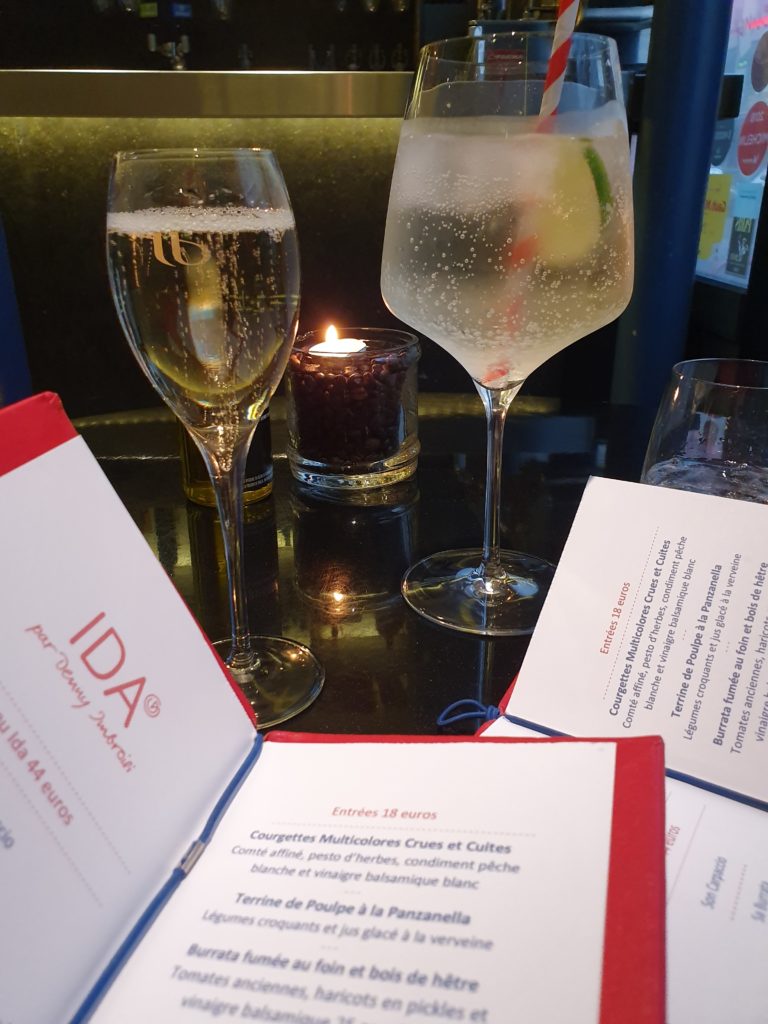 They were excellent: The Spritz was less bitter than the classic you probably know already and absolutely perfect for the summer.
Then I decided to try the blind tasting menu as I love surprises … (the menu changes every day, which just makes it even more exciting)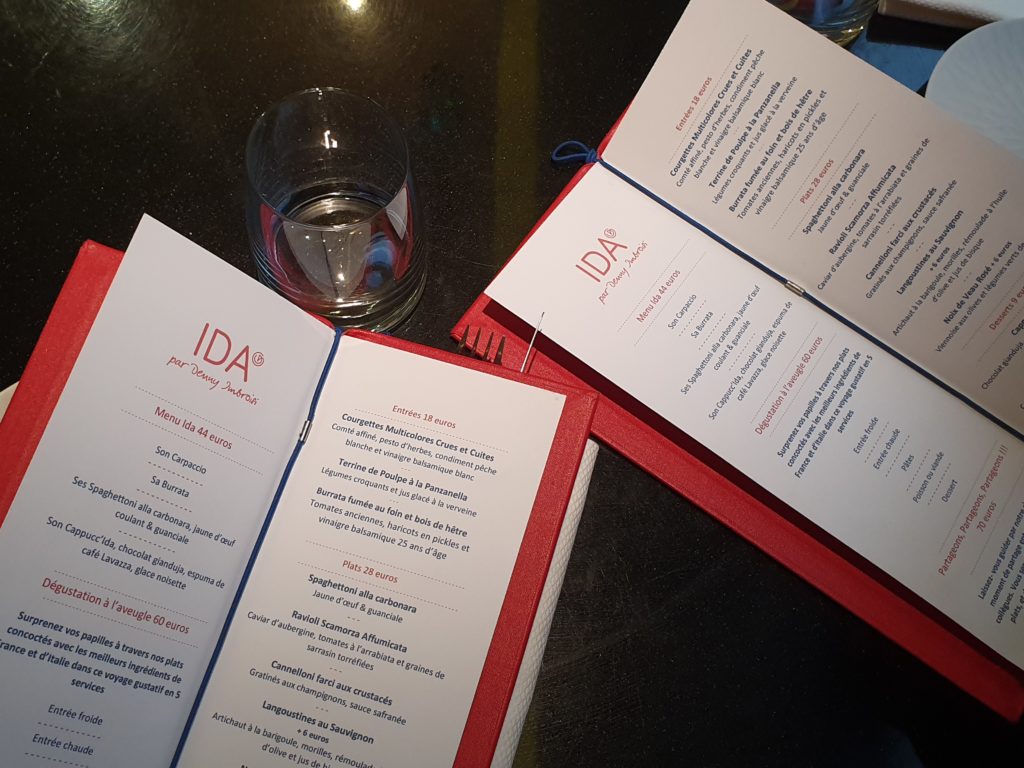 It started with an Amuse bouche: bruschetta with tomatoes, ricotta with herbs and bread with charcoal … surprisingly good.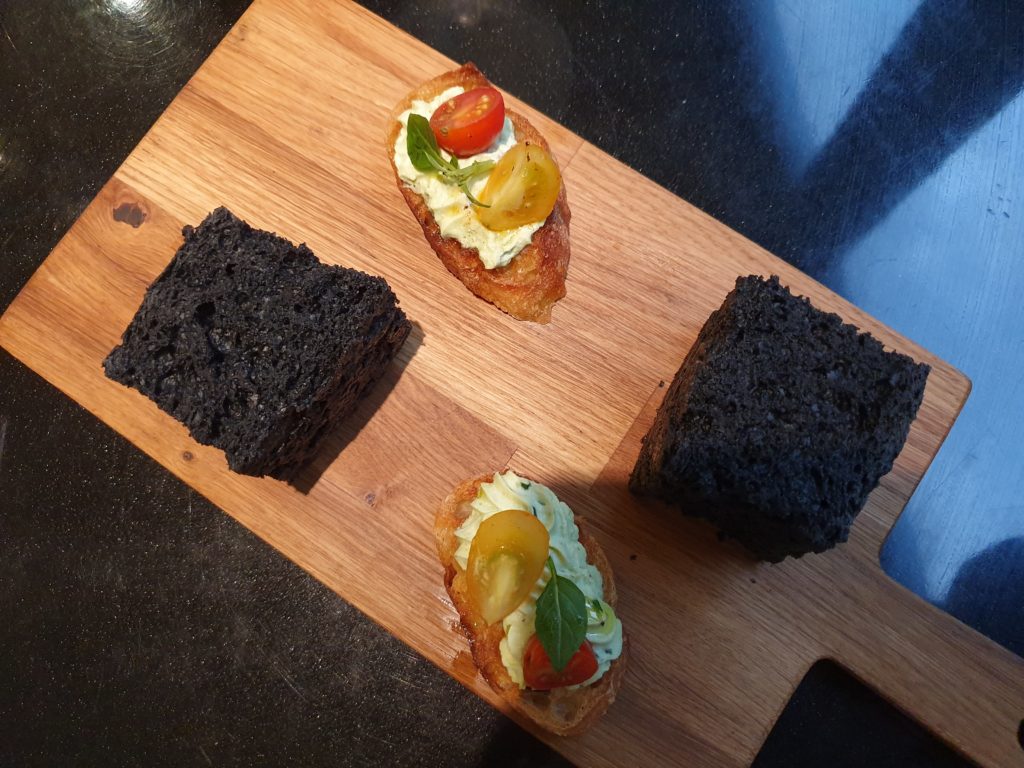 At first, I was apprehensive about how it would taste … but it was excellent, especially with the olive oil. Note that the black matched the room colors.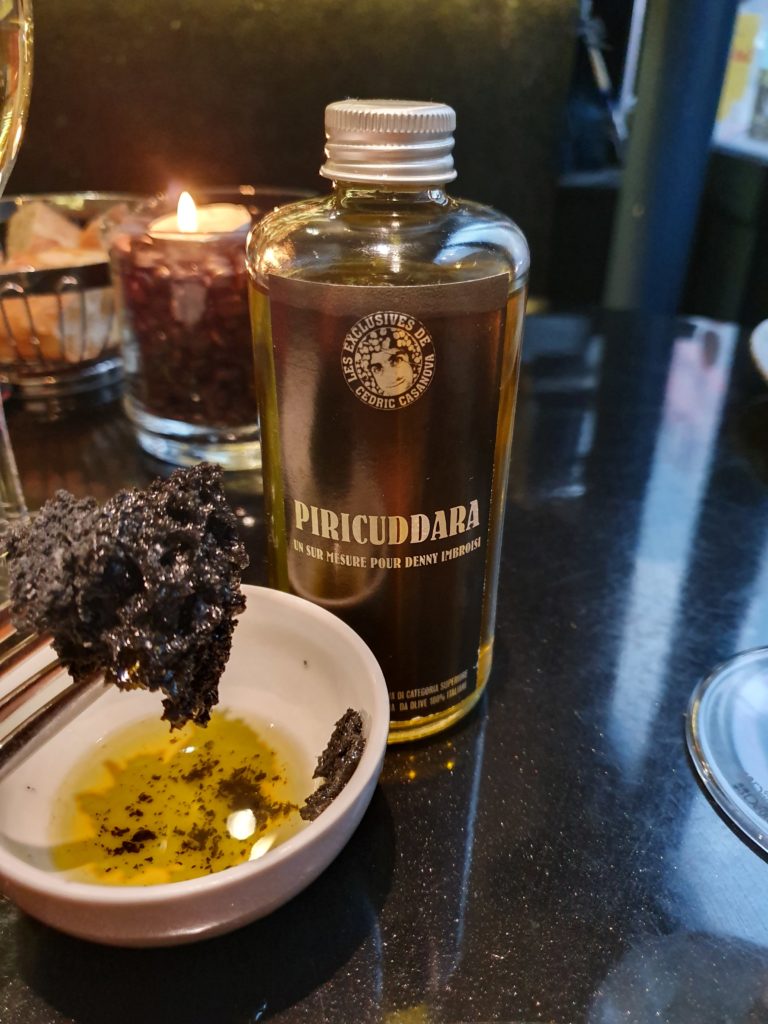 Then a marinated salmon with cream dill and waltermelon was served.
Very original with the watermelon / salmon combination … extremely fresh, balanced and good. An excellent summer dish.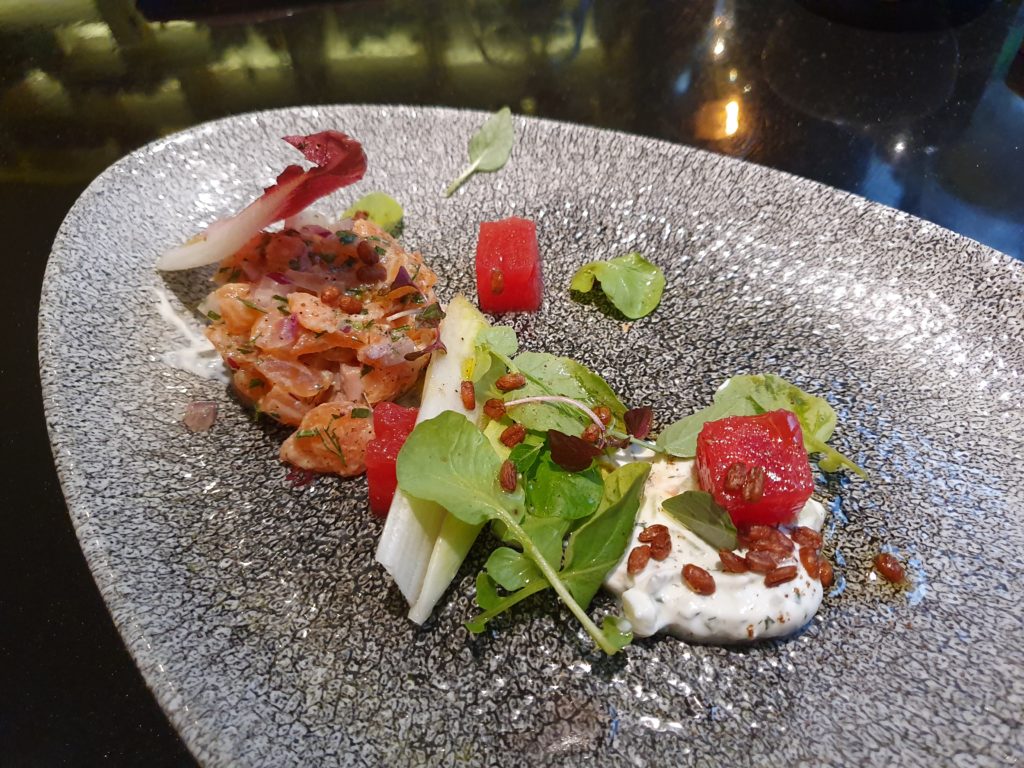 I loved the artistic and contemporary presentation of these dishes. It was the perfect combination of French and Italian, yet with a touch of the rest of the world.
I also tasted roasted octopus with creamy sauce from Aubergine Cavier, with
leeks and butter beans
Extremely tasty, harmonious and surprising … I didn't know I liked octopus so much. So delicious.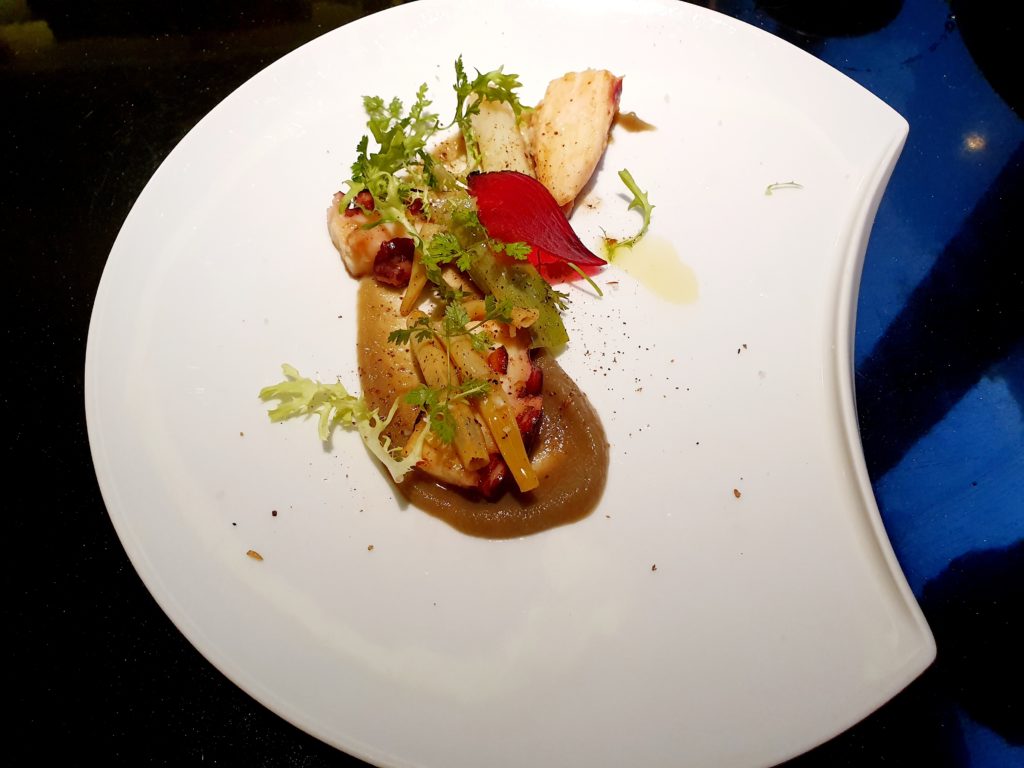 After the trip in the sea I continued on up to Italian land with a flavorful Riviole with peas and parmesan cheese.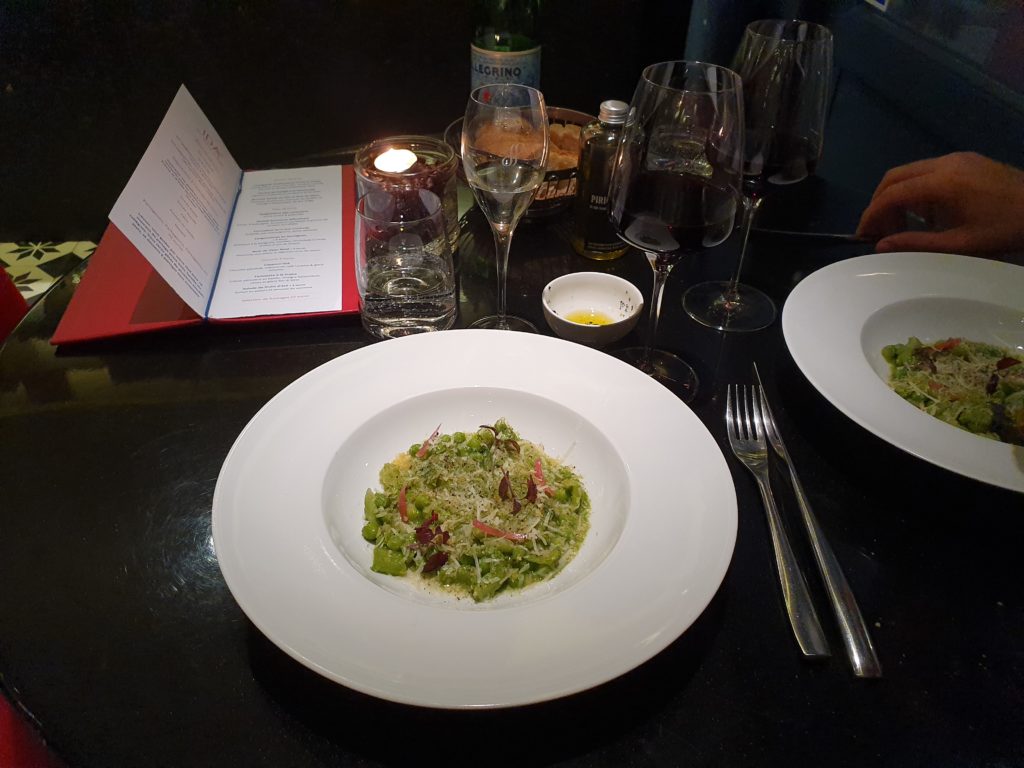 Really good and fresh with a beautiful strong color that reminded me of the beautiful Italian countryside …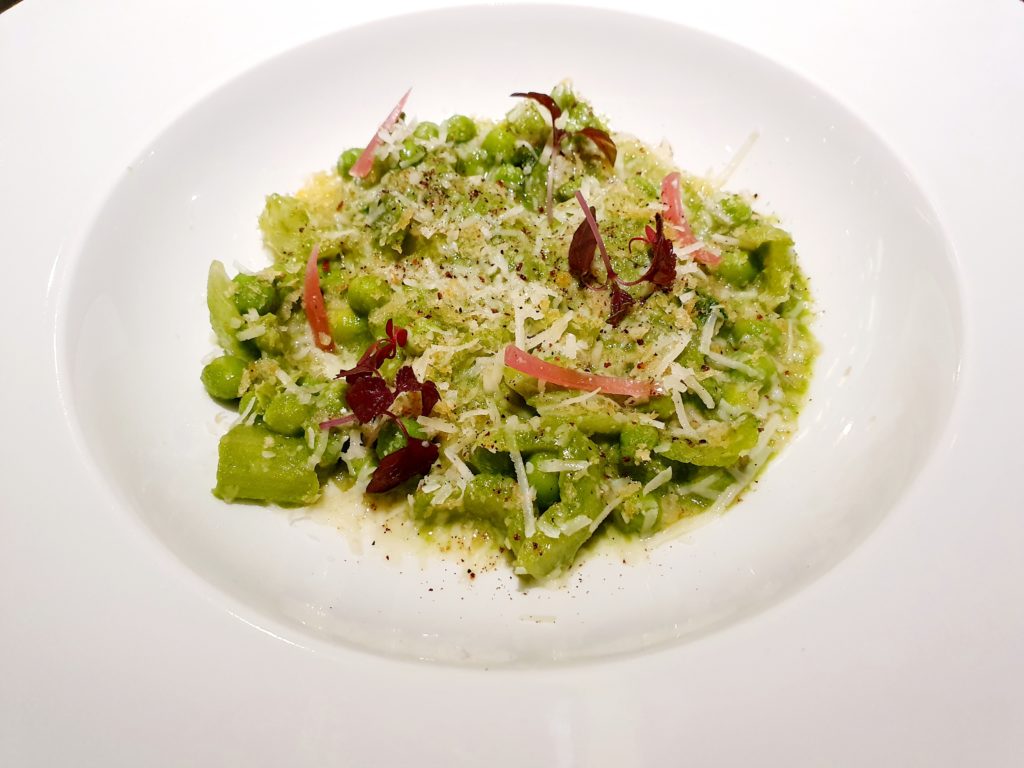 …and together with the great red wine from Tuscany I was swept away to sunny Italy and its amazing scenery …. I was there.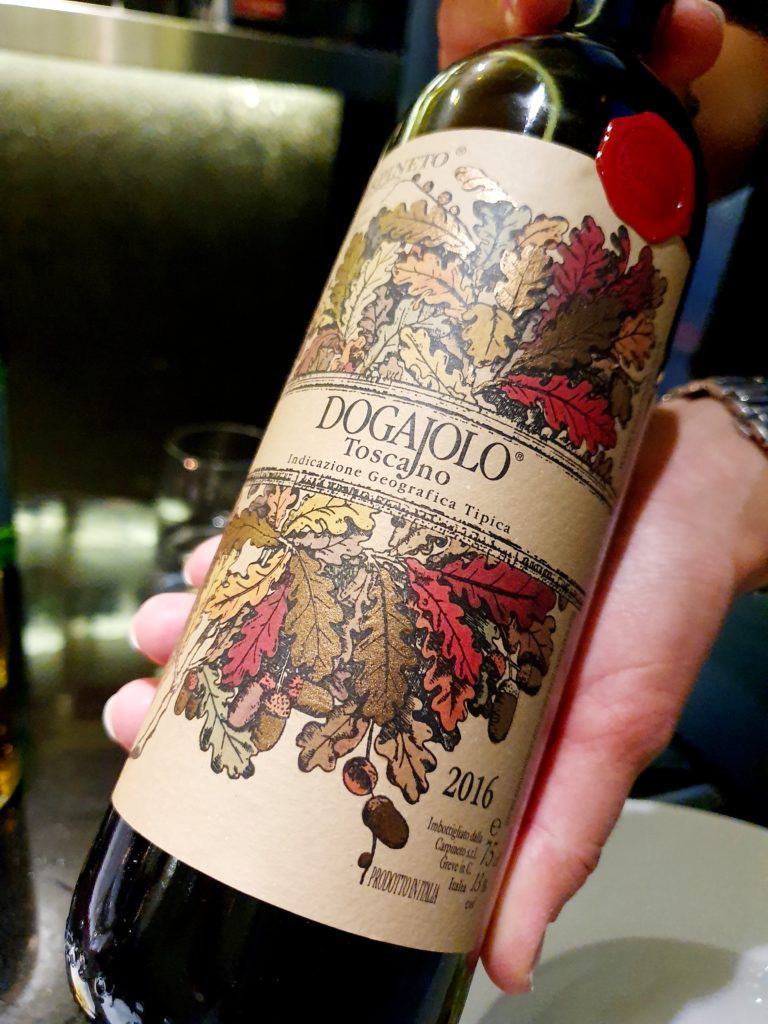 The next dish was the meat of veal nuts with artichoke and peas. Delicious, tender and flavorful. I loved it.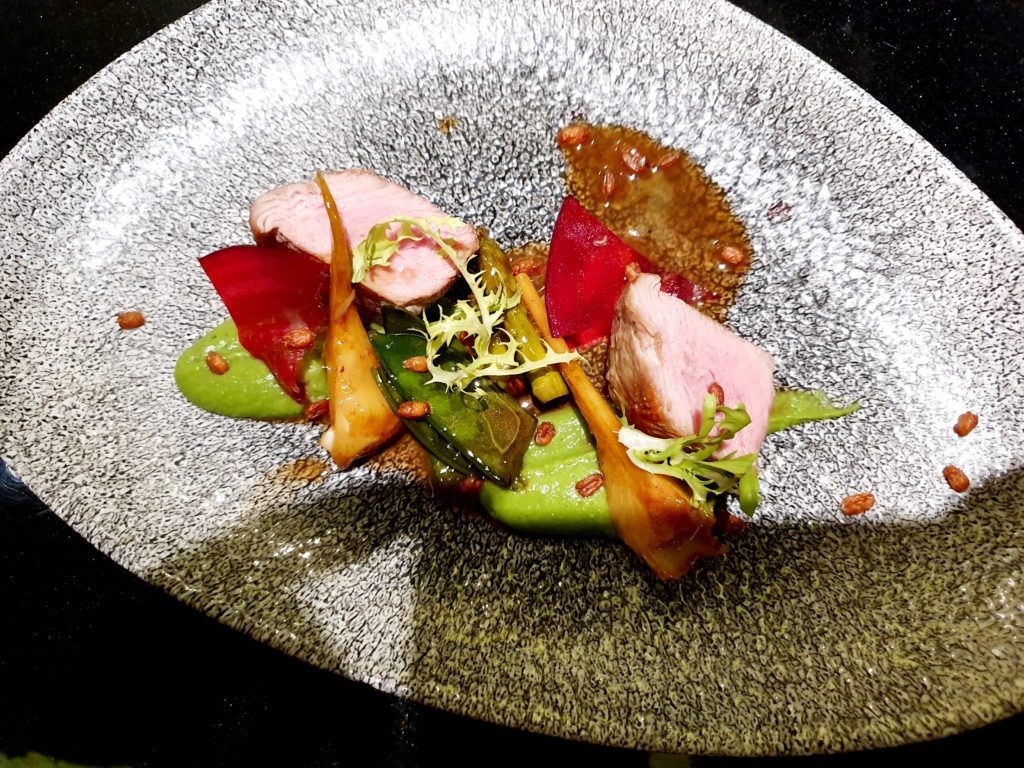 This is not surprising, however, as Denny Imbroisi, owner of the IDA restaurant, has thought it from some super chefs that he continues to admire, such as Mauro Colagreco, William Ledeuil and Alain Ducasse.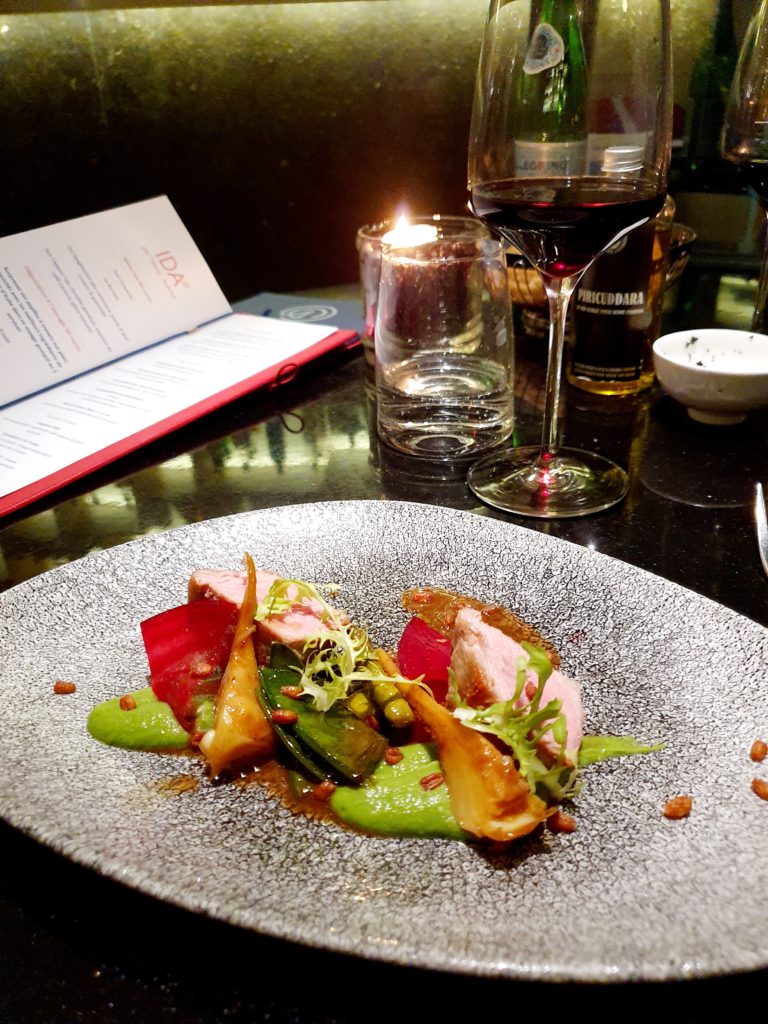 My absolute favorite was the dessert … what a masterpiece: Vanilla ice cream with coconut, toasted caramelized pineapple, Specolos, coconut milk and mint leaves. An unstoppable journey for all senses. Really good.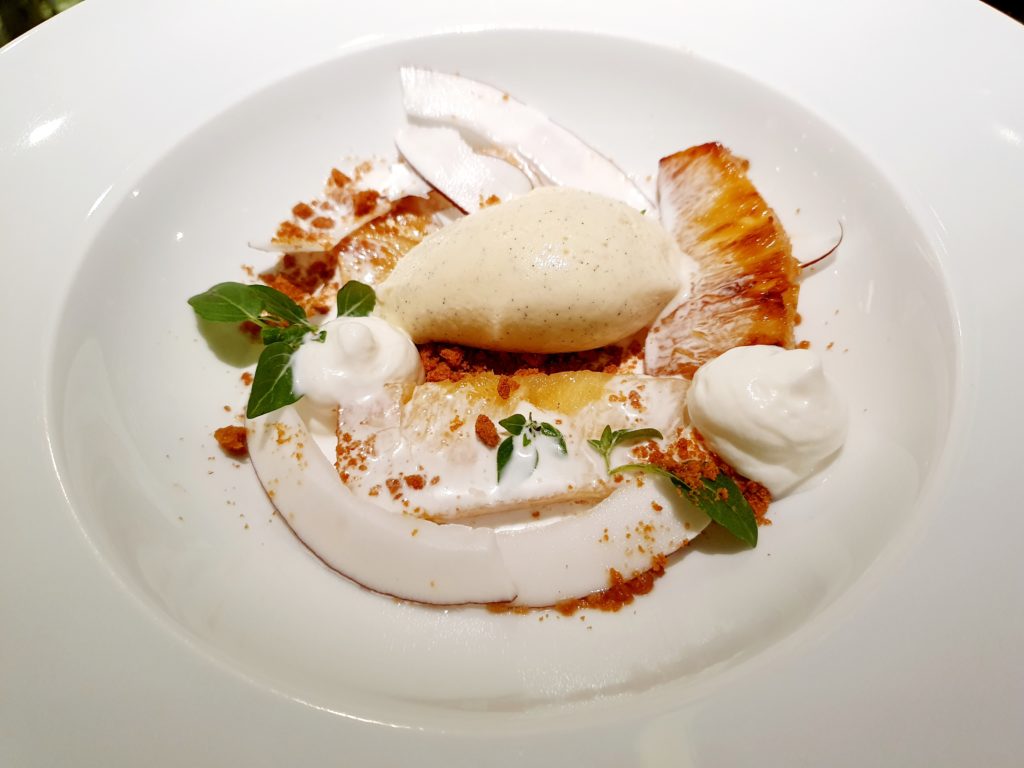 It was exotic, original and with a nice contrast between the fresh pineapple and the coconut. A must try.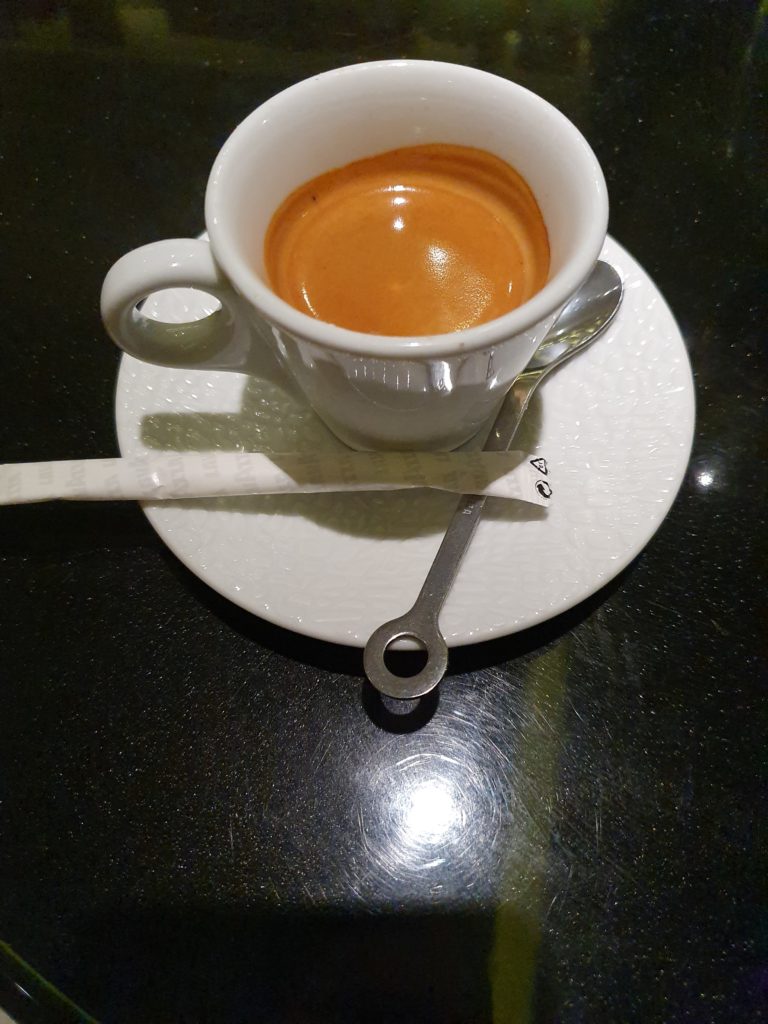 This restaurant was a real delight … super cozy, romantic and with great food. I recommend you try it.