In fashion, follow the fashionable people
Does the fashionshow-guests show the way?
Sometimes the new trends are to be found amongst the guests attending the big fashion shows. That's why I took a close-up look at the people standing around me in the line, to Jean Paul Gautier haute couture show, and the Dior-show in Paris,
By Agent Luxe
I spotted a feminine, almost elf-like look. Her mild expression combined with a light outfit, gave her an almost fairytale-like appearance. She had managed to create a mesmerizing effect with her clothes-combination, and attracted nearly everyone's attention. That´s absolutely a look I would go for in the future.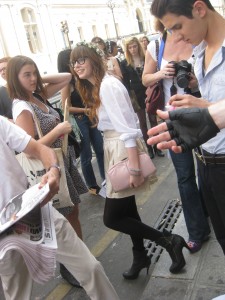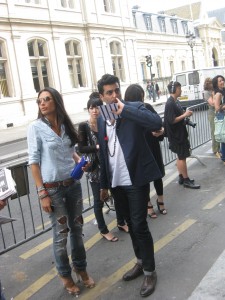 Also the raw star-look was showcased: Pierced jeans, added with wider band around the arms, and 60s sunglasses. As accessory: the brown gladiator shoes that appear all over Paris at the moment.
I´m often surprised to see how inspiring the Asians that attend the fashion-shows are…wearing all these creative dresses. I wonder where they find their inspiration, because it seems to be quite different. Unfortunately I didn´t ask them this time. Particularly two Asians caught everyone´s attention, also the photographers and by passers.
Their yellow and purple outfit, couldn´t go by unnoticed. Some might say; a bit too much to be tasteful, but despite the very strong appearance, there was a degree of cohesion in the look, which made it both tasteful and inspiriting. The white stripe on the man´s black hat was repeated as a white stripe on his yellow shoes.
The details were highlighted because of a neutral black suit. Under the suit he wore a yellow vest and a black tie with white dots. Although it seemed like a casual look at first glance, I am convinced that it was carefully composed. The woman was wearing a purple skirt, purple cowboy
Perhaps the new tendencies does arise from the guests as well…It´s never really to tell, but you surely can get inspired!
Marion Cotillard, that played the fantastic role as Edith Piaf in "La vie en rose", also showed up, wearing black.