Alexandra Mas for Clio blue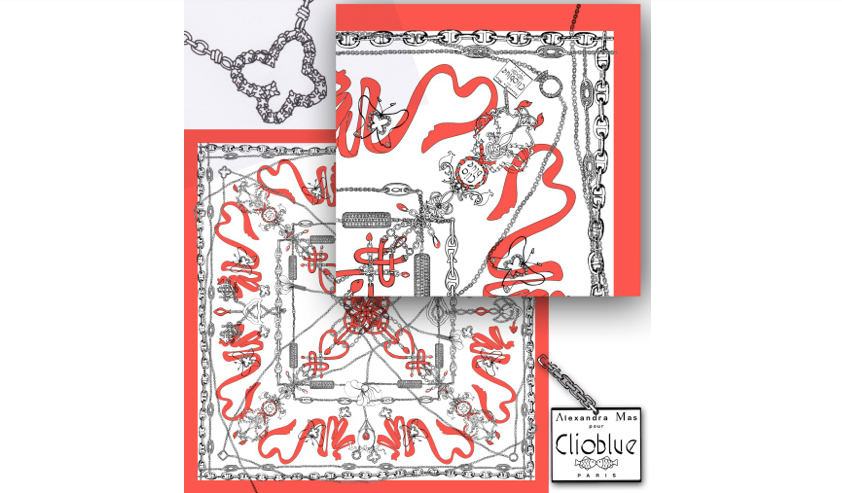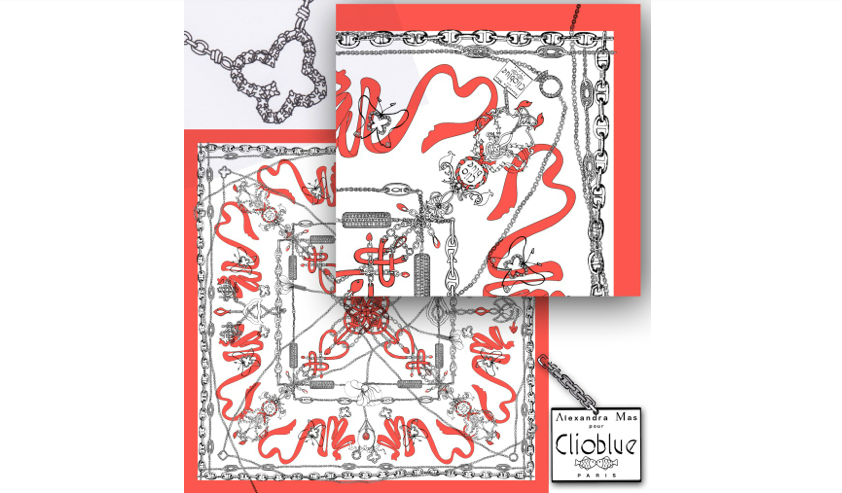 Last week I met one of my adorable friends, Alexandra Mas, for a coffee. She is a multi talented artist. She has been working with couturiers like Eric Tibusch and Alexis Mabille and recently she has developed a new print concept for the scarfs of Clio Blue! She told me the confidential story…that not many know about yet….read it here.
Article by Julie Johansen
Alexandra Mas for Clio blue
When we both had got our coffee served Alexandra started telling me her story…
"Not long ago I created a brand new concept together with couturier Eric Tibusch. We called it ART A PORTER because, seen from an intellectual perspective, we are using a very simple technique, where we turn a real painting into a gown.
The transformation of a painted canvas into a haute culture dress is, seen from a couture point of view, a very complex and difficult technique. It is not a print of the painting that is being used on the dress, as most people tend to believe. But the actual technique I can´t reveal.
The dresses we made were part of Eric Tibusch´s haute couture shows during Haute Couture week in Paris. They have been featured in several international magazines like Vanity Fair UK, Mode.fr, FlipZone Femme, Fashionmag, Aufeminin, Abc-luxe, Purepeople and Best Dress RU."
"During one of the shows, in 2012, the president of Clio Blue, the jewelry brand, Mr. Patric Morineau saw my paintings on the dresses. Eric Tibusch had already talked to him about my art and our collaboration. So after the show he came straight over and asked me if I wanted to create scarfs with my paintings for Clio Blue?
We ended up having a meeting. During that, I came up with the idea of doing paintings and ink drawings on the scarfs – inspired by their jewelry – to keep a logical line – where the clients can recognize the brand's universe even in the new element of scarfs. They have never done scarfs before, but the whole board liked this idea, so today you can wear a silk scarf assorted to your earrings and bracelet." Said Alexandra.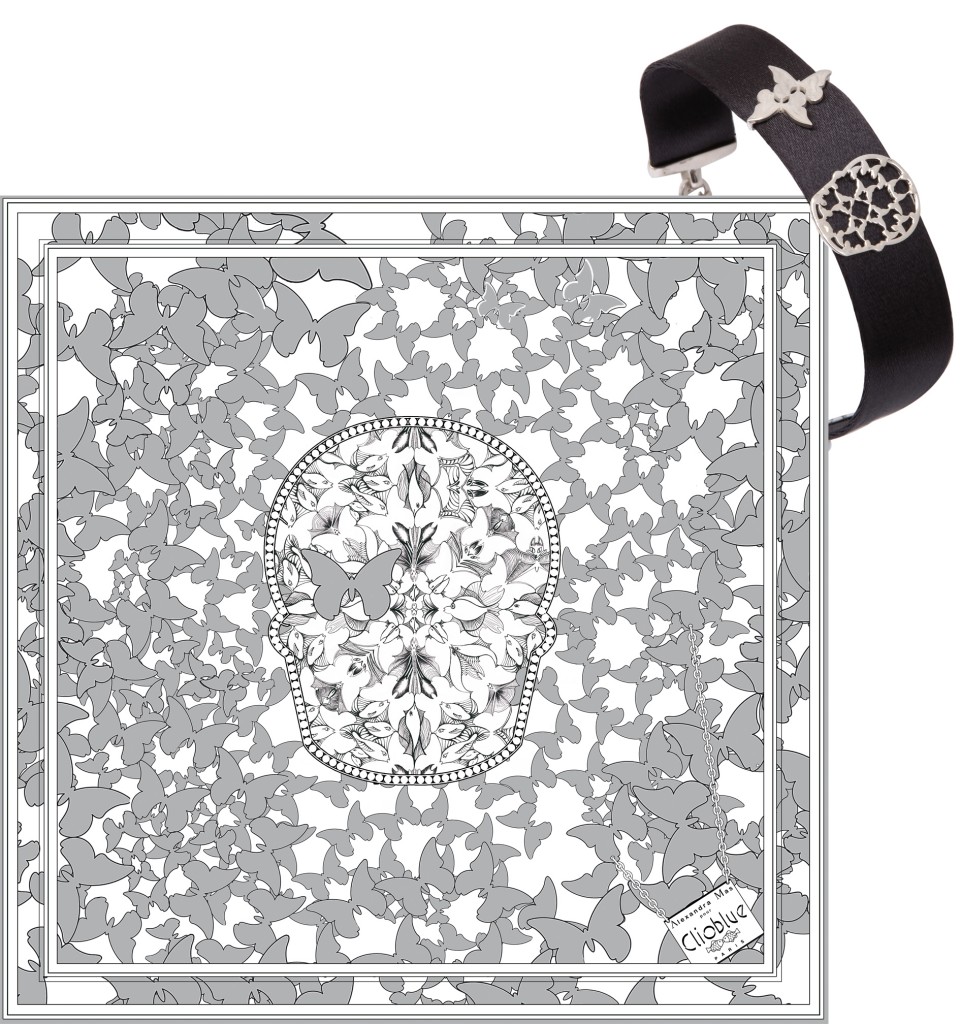 "We had a franc success! The scarfs can be found in concept stores around the world: In the Gallery Lafayette and of course the Clio blue boutiques. What surprised me the most was the success of the man collection.
We don´t do a lot of communication about it, so this is a quite confidential article. I think for an artist is better that way. After all, this scarfs are small pieces of art.
I am working closely with Thomas Escudier, Clio Blue's designer, to know what he wants to present next season. That gives me time to make my art work. I make them with water colors, oil paintings, pastel drawings and ink drawings. Depending on which elements inspires me. Afterwards I transform them into patterns. As a perfectionist I do all the steps by myself. The art work is then scanned into a computer, where I can start working on it, to obtain the actual scarf design. Then I present it to the brand's board, and if accepted the   finished elements go directly to a silk printing manufacturer. Small collections like this need a real know how."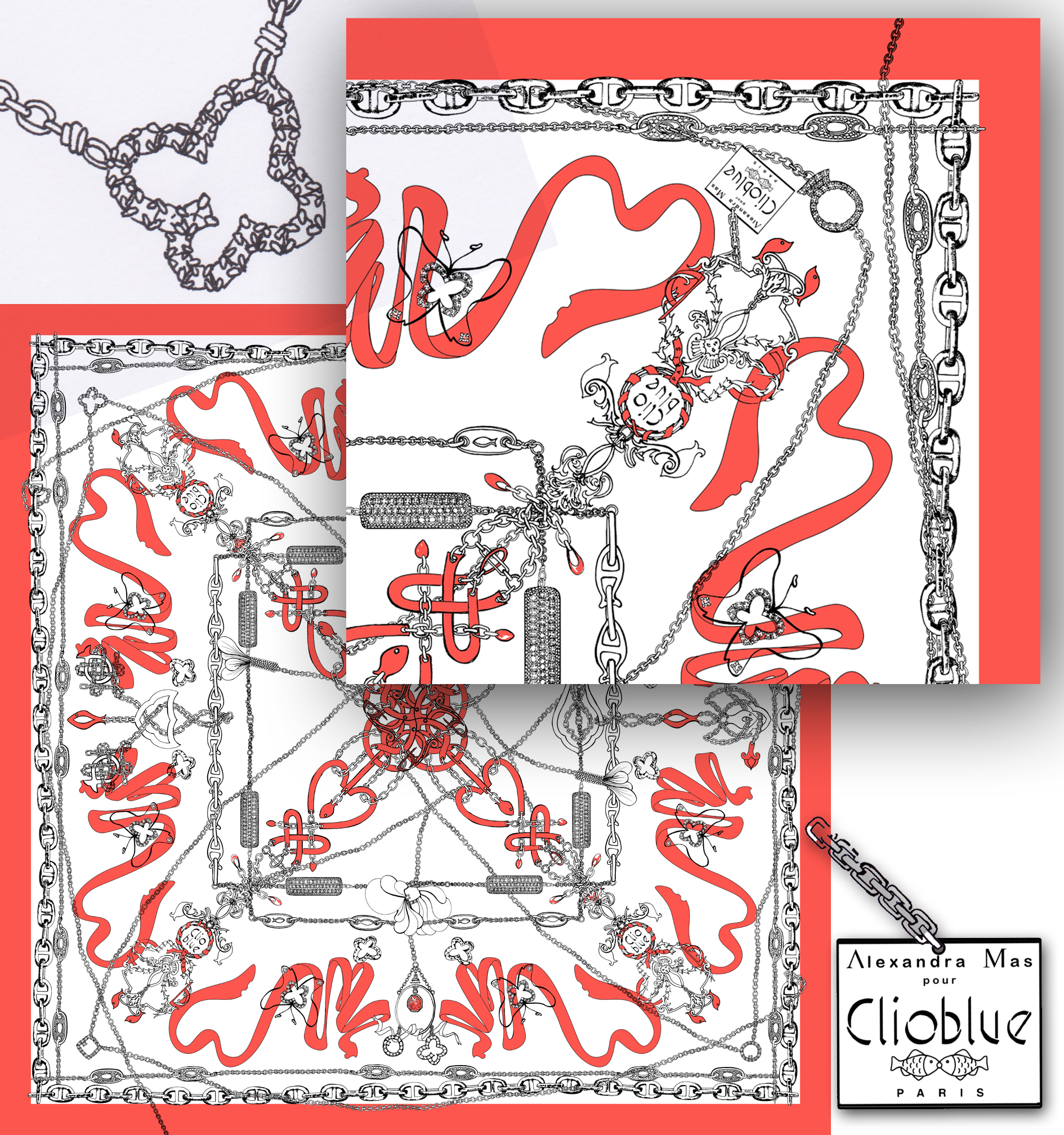 "I had a lot of fun inventing and drawing these new elements. And when the commercials saw them, they discovered patterns that would be great for the Clio Blue jewelry but was inexistent at that time. So in the end of the meeting Clio Blue offered me the opportunity to create an Alexandra Mas jewelry line for them as well.
I have already been working with designer Alexis Mabille, while he was accessory department director for Christian Dior. He gave me the opportunity to draw next to him during two seasons, for the fantasy jewelries. I studied object design but have never been in touch with jewelry design. So today I´m really excited about preparing three rings and two parures with necklace, earrings and bracelet for Clio blue."
And in the end of the story Alexandra offered me one of her new scarfs…what a fantastic present. Thank you!