Paul & Joe, What´s going on backstage?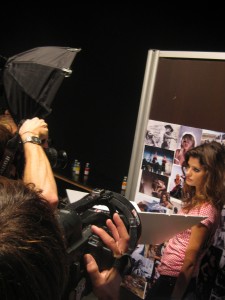 Backstage, at the Paul & Joe fashionshow
Once again Paul & Joe showed an amazing collection in Paris oct. 09. A collection sparkling of sophisticated elegance, and femininity. I went back stage, to give you an insight in what´s going on just before the show begins.
By Agent Luxe
We always see the beautiful pictures from the catwalk – but what about all the preparation that precedes the show? There are hairdressers, make-up artists, stylists etc. working hard, quick and professionally to get the mannequins ready. It´s not an easy job, everyone has to look perfect and be ready in time – because there are hundreds of people – out there in the room – waiting for the special moment to begin…ready to judge the new look!
The hair must be done:
Also the makeup;
Everywhere backstage people are working with great efficacy.
The professional photographers are doing a photo-shoot with the models in front of the inspiration-board – In order to capture the theme of the collection. This season it was the cowboy theme which was showed on the inspiration board. Take a look.
If there´s a modern cow-girl she would absolutely look like this…we are in the wild wild west-ern Europe…so get on the horse…and show the feminine cowboy attitude!
and off cause the models got ready, with the great feminine cowboy look that was essential to this collection. Paul & Joe fashionshow could begin.
And it was great!