Dominique Bouchet – A Michelin star restaurant
I tried the fabulous restaurant Dominque Bouchet and got to meet the man behind it: Dominque Bouchet. A man who has worked as chef de cuisine in some of Paris´most famous Michelin starred restaurants such as Tour d´argent, Crillon and Joel Robuchon. I talked to him about luxury. Read about it here and discover his outstanding restaurant.
Not far from the park Monceau you´ll find the fabulous restaurant named after himself: Dominique Bouchet. A modern, classy place, where fine food is served. This is also where I met Dominique…
Dominique Bouchet
Dominique studied at the Hotel Management School and was hired by Joël Robuchon at an age of 22. In 1978 he became Chef de Cuisine of Jamin (2 starred Michelin restaurant in Paris.) From 1981 to 1988 he became Chef de Cuisine of the world famous restaurant La Tour d'Argent (3 Michelin stars)…and in 1997 he became Chef de Cuisine of the hotel de Crillon (2 Michelin stars) and when the opportunity came, he started his own business and opened a restaurant in his own name…
The Dominique Bouchet restaurant (1 Michelin star)
I went there to try it and was absolutely fan…
As I walked in the restaurant I was immediately swept away by the stylish tables, the white napkins and the beautiful handmade plates. The decoration was fabulous: Elegant and with a link to nature.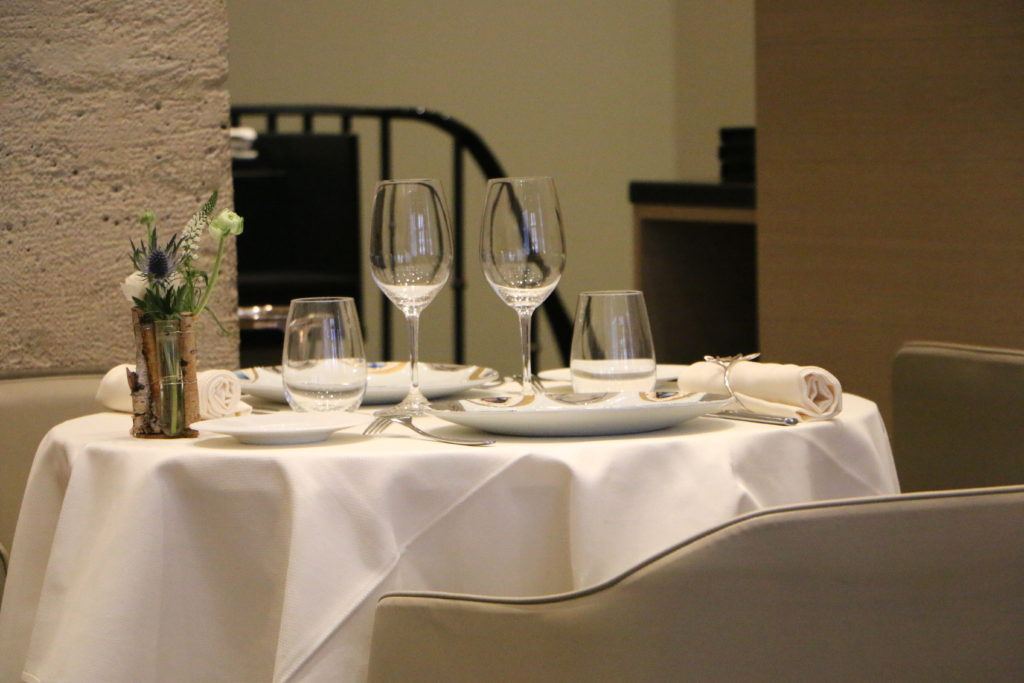 The flower vase was made of small logs, and the towel rings had small leaves on them. I interpreted it as a respect for the nature that enriches us with fresh ingredients for our food and a certain life balance.
Long before the food was served I had become enchanted by this place.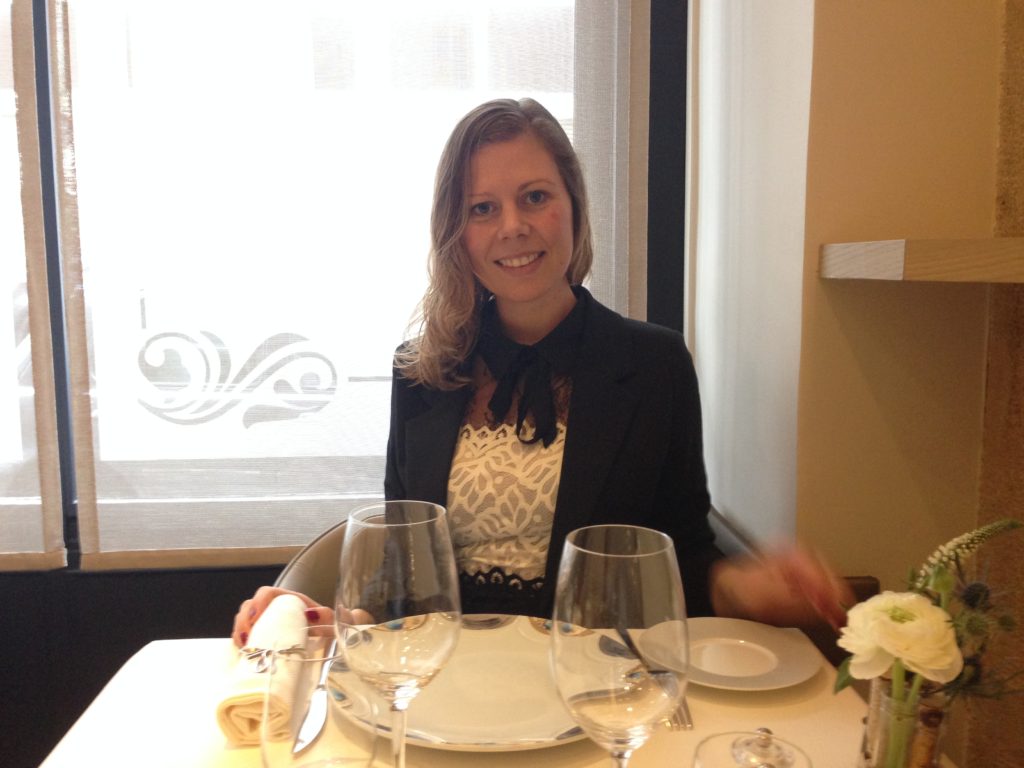 I tasted a glass of champagne with tiny bubbles and a fabulous taste. Le blanc de blancs – Dominque Bouchet´s own favorite.
And while I waited to discover his menu, small "petit fours" were served. One with beetroot, one with fois gras and another with cheese and sweet honey. Delicious.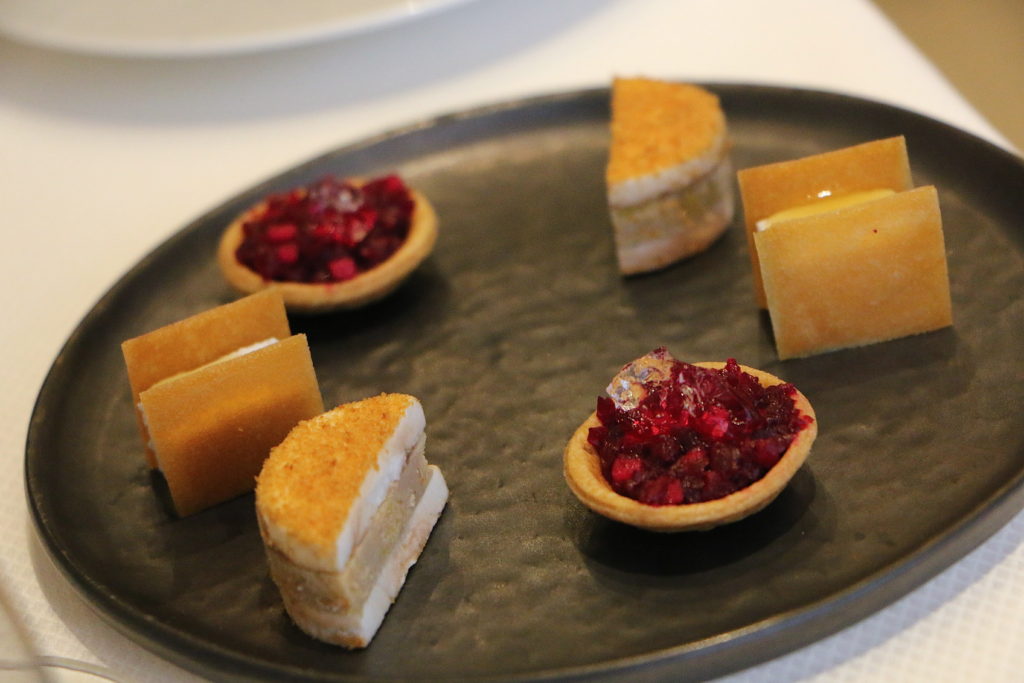 The starter was a creamy chestnut soup with truffles. Sweet and harmonious. It was like a warm duvet on the tongue; gentle, warm and extremely appreciated.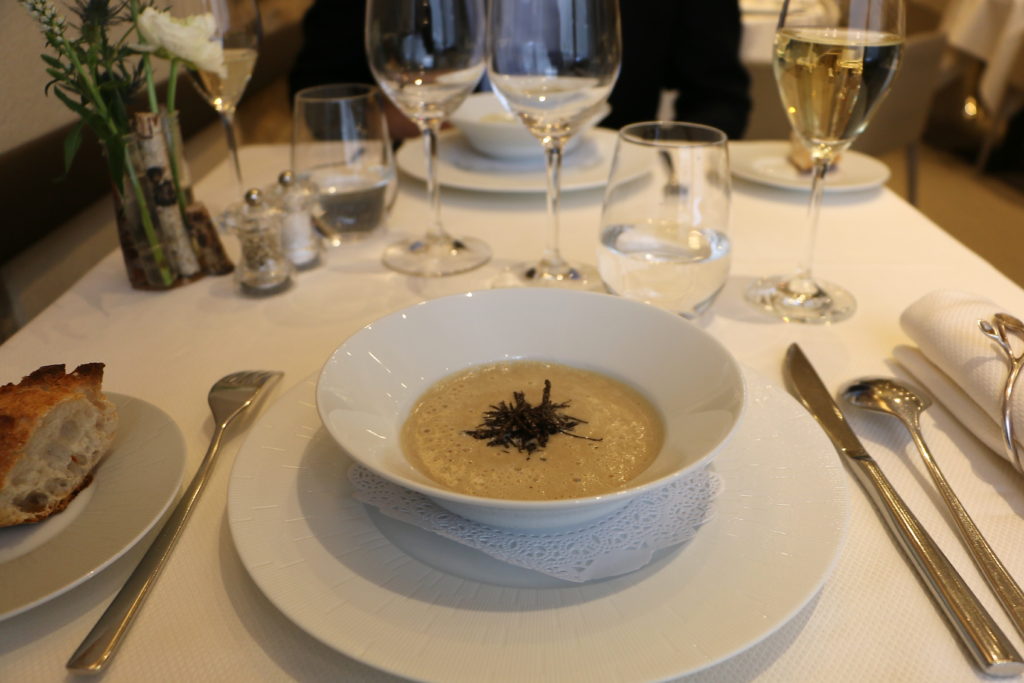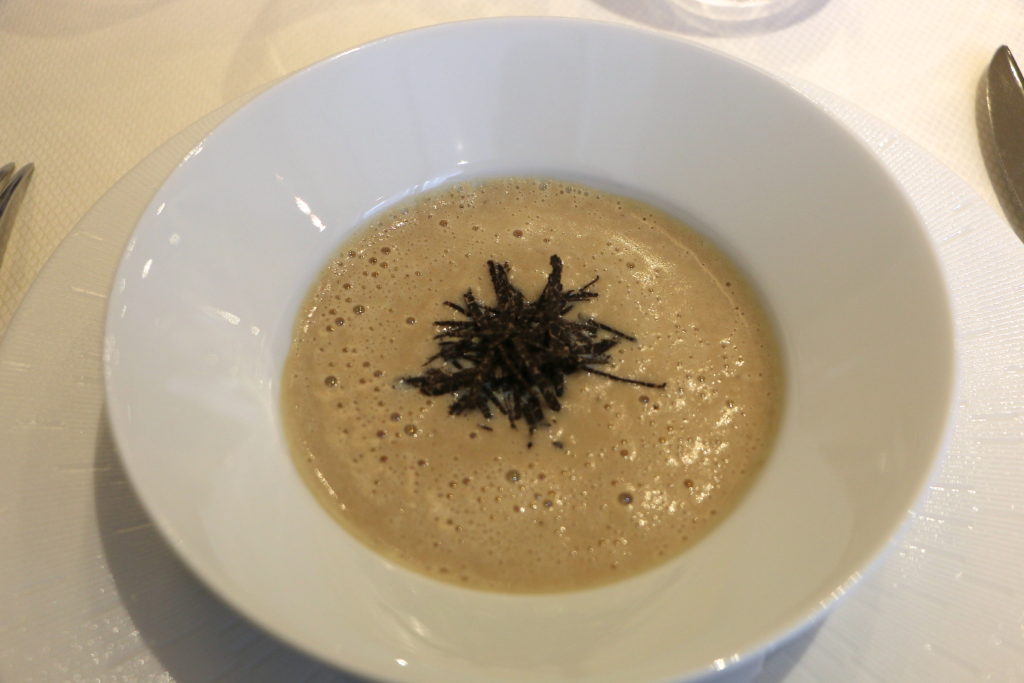 Afterwards I tasted the Saint Jacques with truffle and fennel…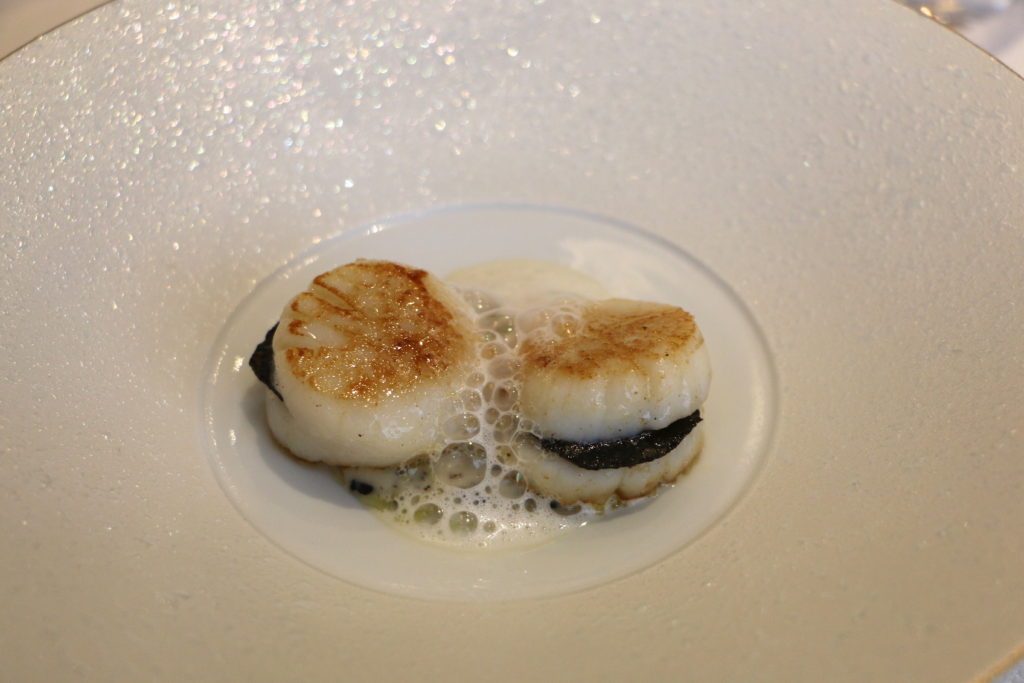 Surrounded by smooth truffle butter that caressed the tongue. The Saint Jacques was extremely good – soft and thick but without being heavy. A fantastic dish that made me smile…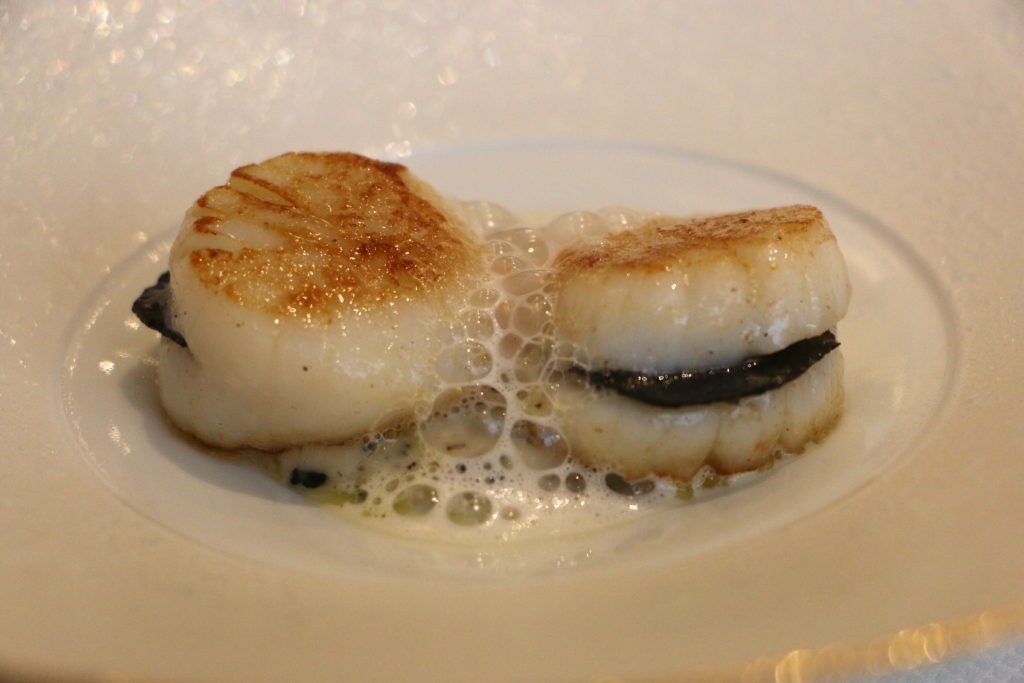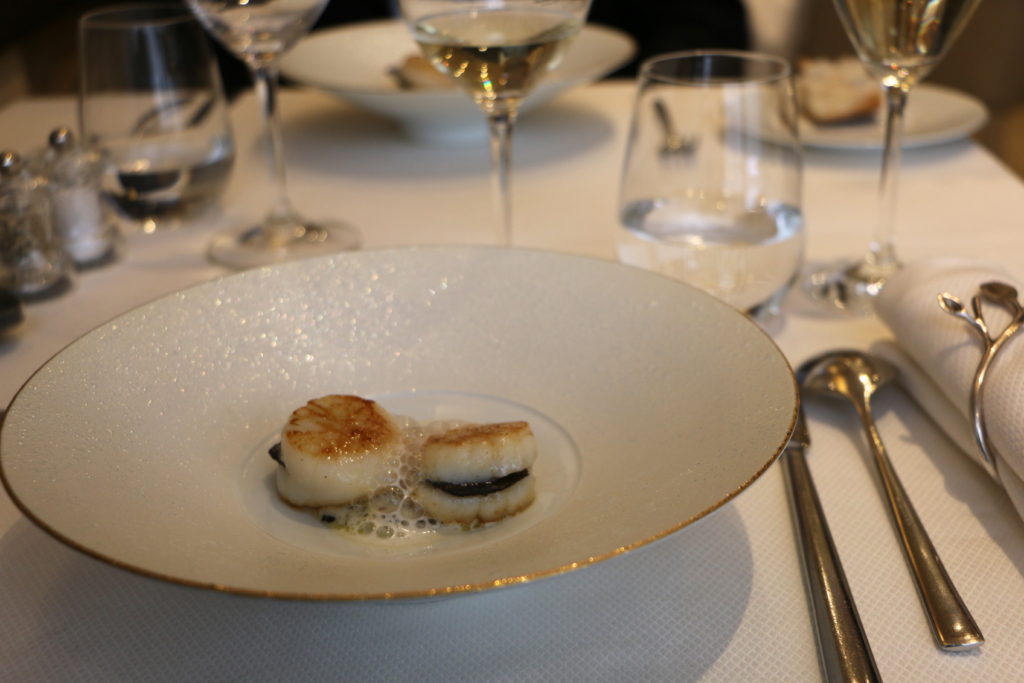 And the Pouilly-Fuisse white wine 2015 was a perfect choice for it…round and with great character…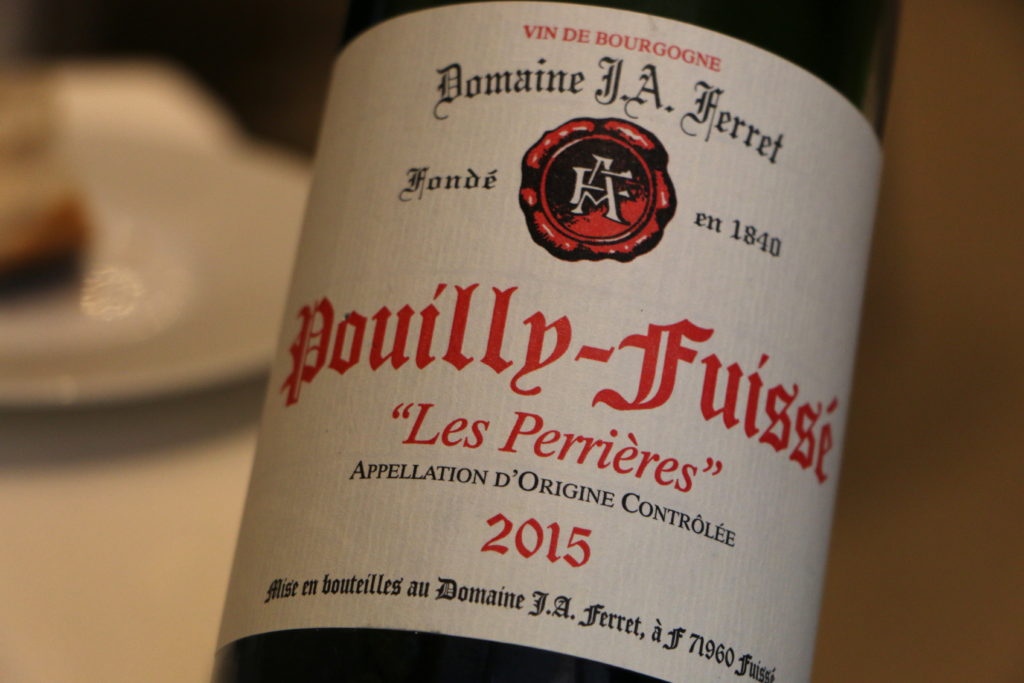 The next dish was a Lobster Parmentier with white butter sauce, chives and caviar. It was fabulous and the light taste of lemon in the sauce worked out perfectly with the lobster.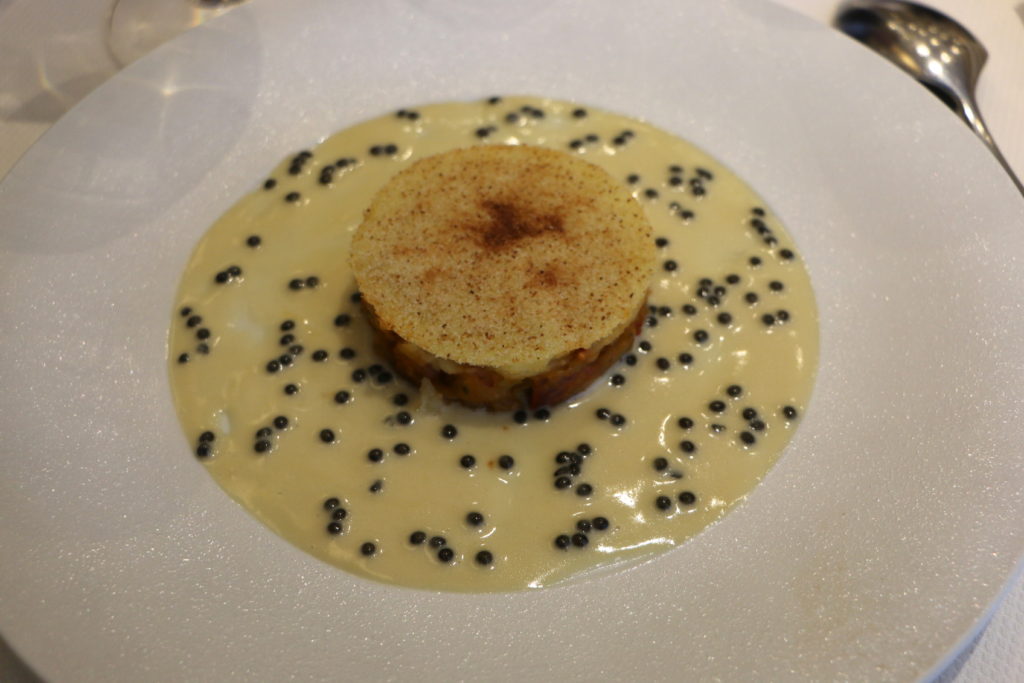 The white wine was fresh and vivid…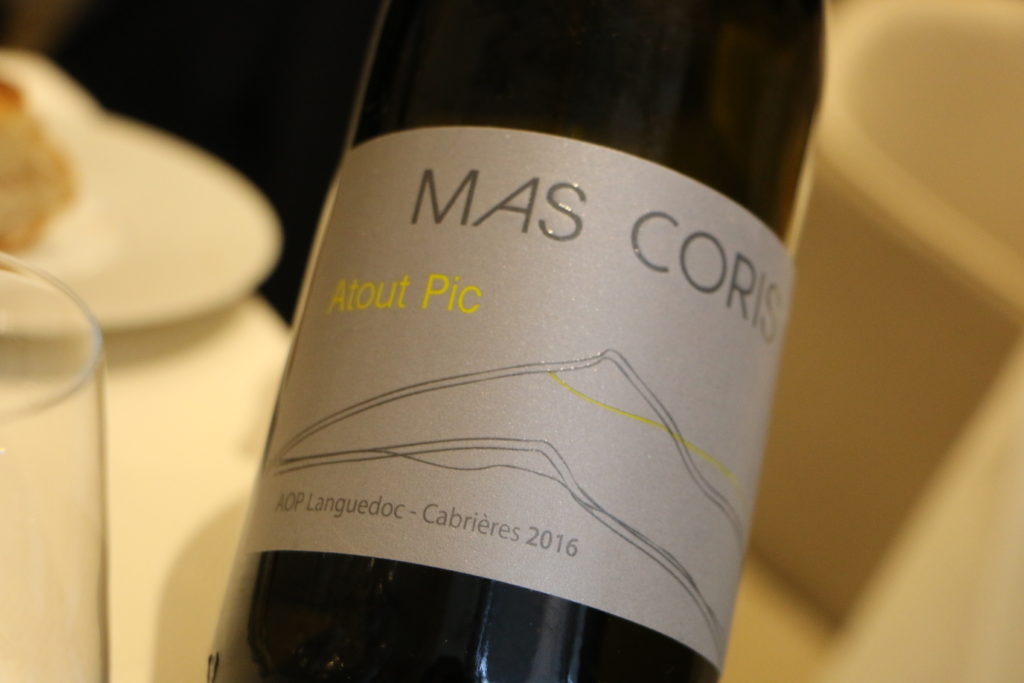 Then a roasted turbot fish with truffle, artichoke, pan-fried wild mushrooms, gratinated onions and a delicious Bordeaux sauce was served. I loved the soft texture of the fish and the perfect combination of the vegetables that accompanied it.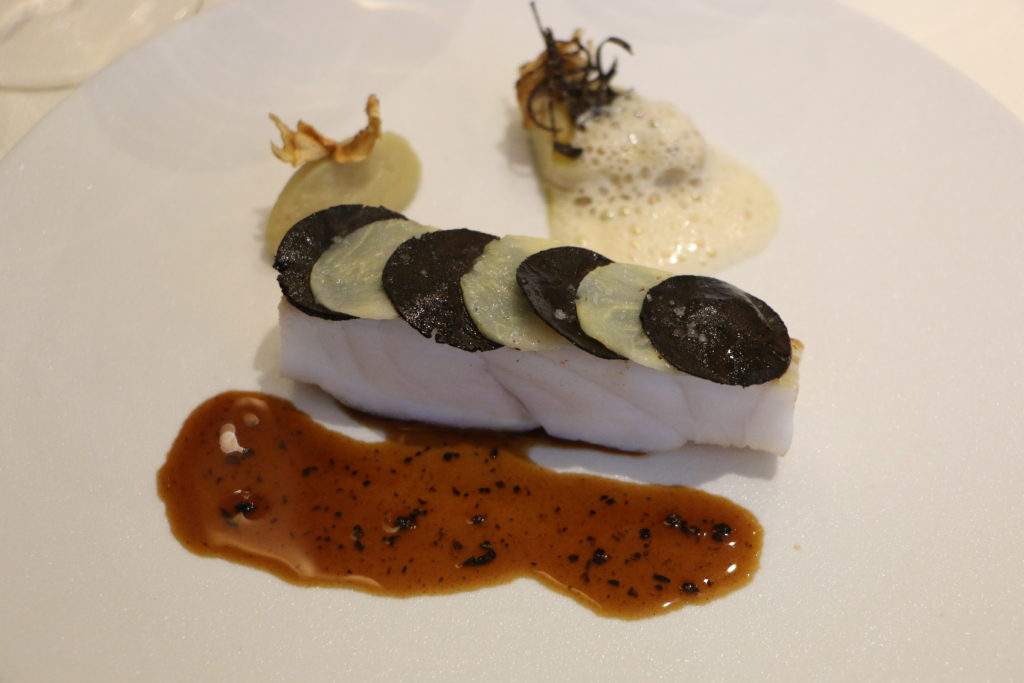 Then I had a the sweetbread with lacked juice on macaroni pasta gratinated with parmesan cheese and truffled polenta. Excellent! It melted in my mouth and the presentation was extraordinary..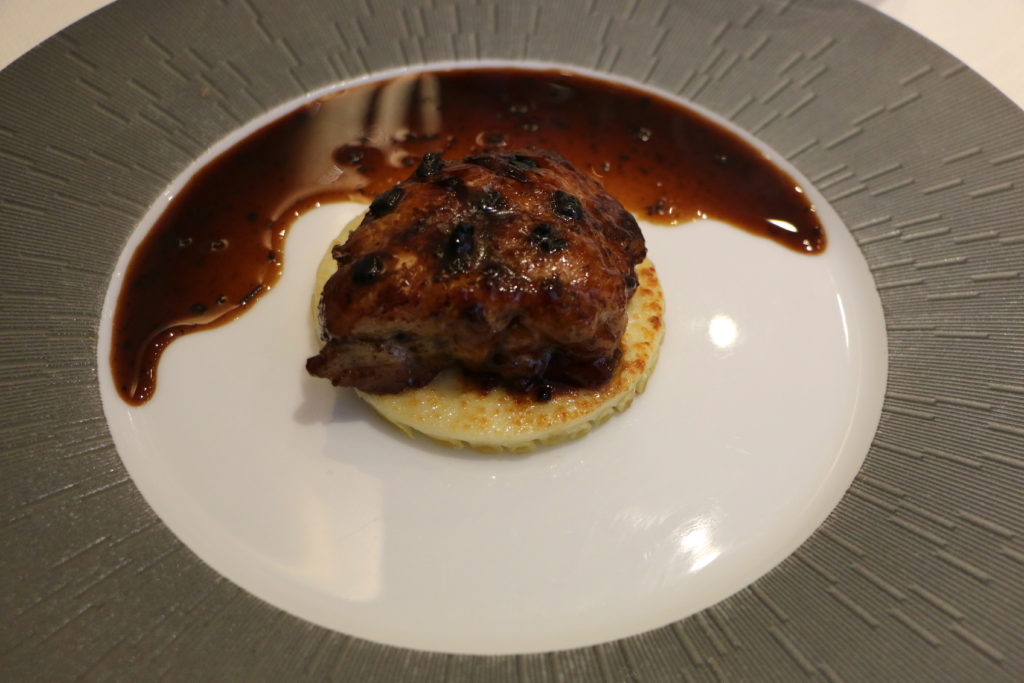 Bordeaux wine – the best of the best. A perfect harmony with the meat…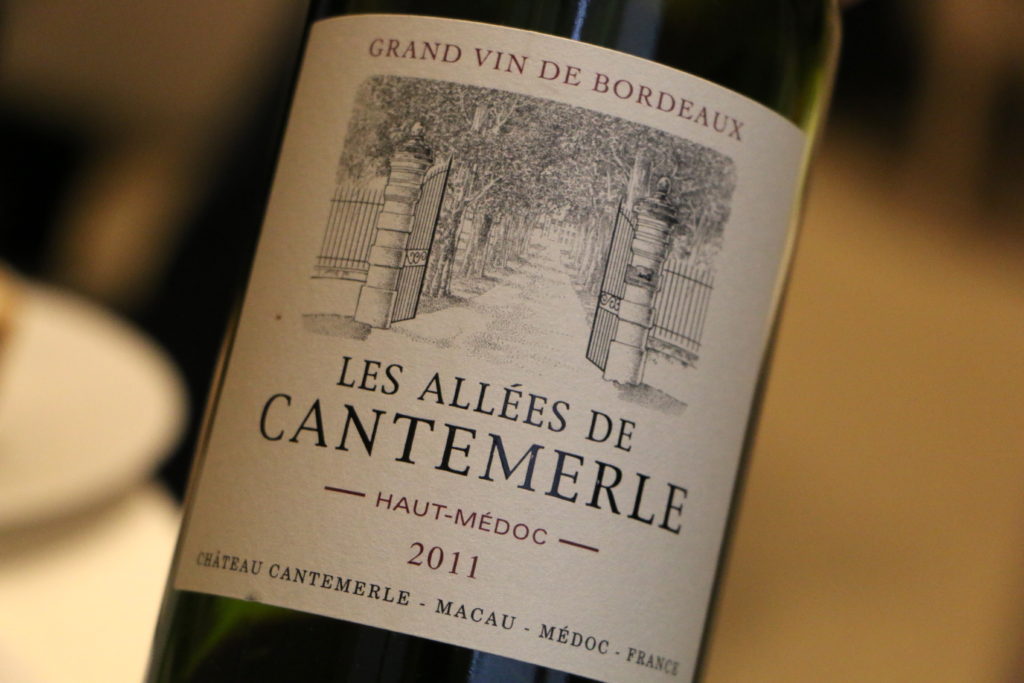 As a dessert I had the Mont Blanc – a meringue sphere with blackcurrant jam. Best dessert ever – a real princess dessert…sweet and creamy.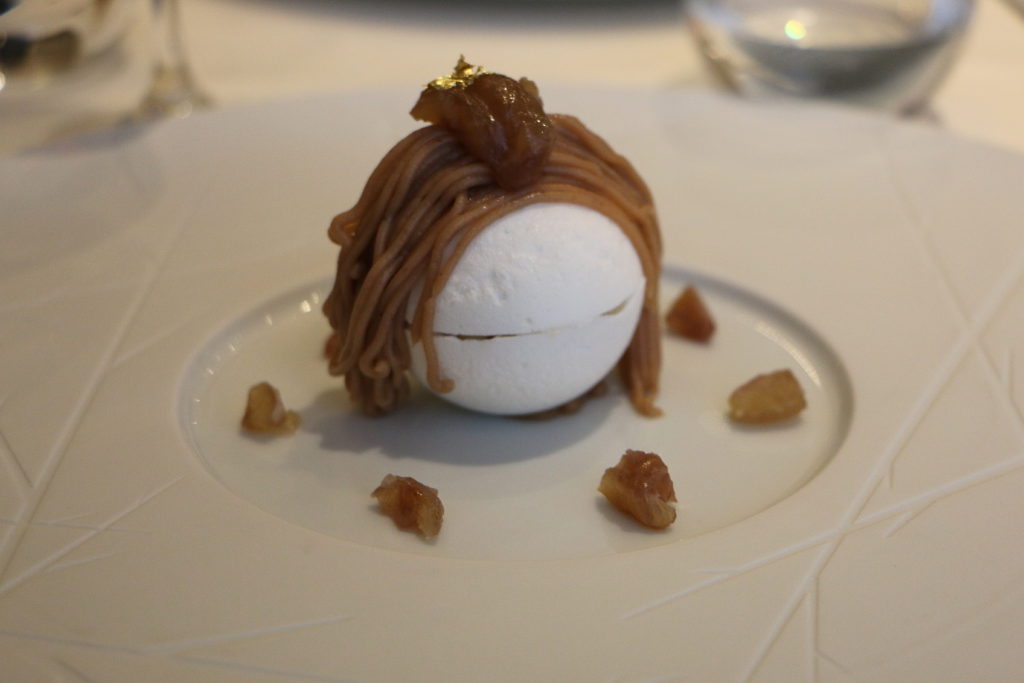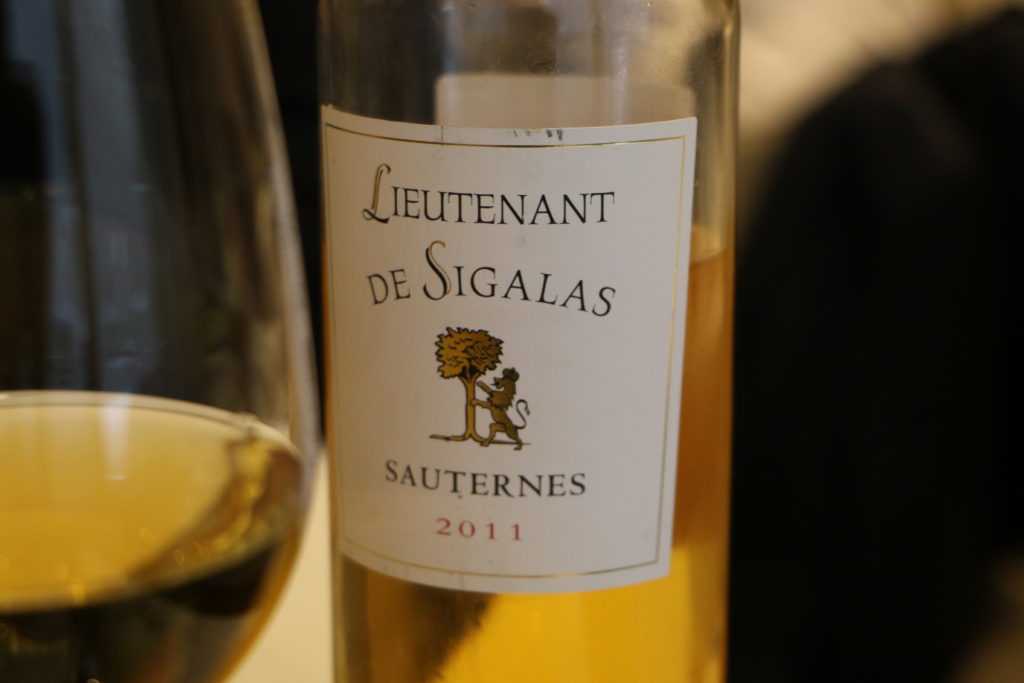 I loved this restaurant and fabulous dinner prepared by Masayoshi Haraguchi, the Japanese chef who has been working with Dominique Bouchet for 14 years…
After the dinner I had a talk to Dominique Bouchet about luxury.
I asked him: what is luxury to you?
He said "Luxury is to have time and to do things you love to do, with people you care about. It´s not about eating caviar and drinking champagne every evening. If you have it all the time it will become banal.
To me luxury is about the rare, about sharing, about the small things that makes you dream… Personally I think that realizing a dream is a luxury.
I like to go to a place not far from where I live and have fresh oysters and Burgundy wine with people I love! It is about the small things in life. I don´t like the kind of luxury that is only about showing off; rolex watches and Louis Vuitton bags everywhere."
I asked him: what is your favorite experience?
He said "I started working 50 years ago, in 1966..but the experience that marked me the most was during my learning period. The chef that taught me about cooking was hard, demanding but human. he was great".
What made you want to become a chef?
"I grew up at the countryside and saw my mom cook. She always used fresh ingredients from each season. Already from an age of 8 I knew that I wanted to cook."
And your inspiration?
"I find inspiration from the moment..I like to go to the market all by myself and get inspired. I find one main ingredient (lobster for example) and then I create everything else around it. I like it to be simple. I like people to taste the main ingredient. Beside that I love sauce. You have to be generous in the kitchen – it is about love!"
After our talk I discovered his Wa-Bi salon
In 2007, Dominique added the Wa-Bi Salon to his restaurant..a place where you can discover the best of Japanese culture. A culture that he´s particularly fond of. I tasted some of the Japanese wine there…Surprisingly good.
I can only recommend you to discover his restaurant. You are in for an experience. Find it at
11 rue Treilhard
75008 PARIS
Tél. : +33 1 45 61 09 46
12h – 14h
19h30 – 21h30
Closed on week-ends