Discover the new Mariage Frères tea salon in Paris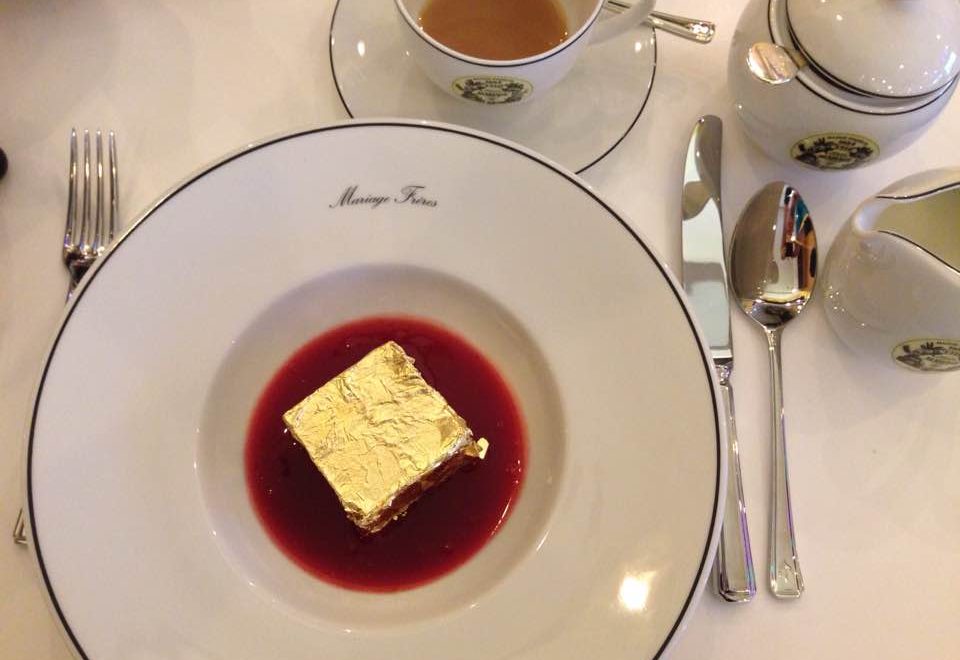 The new Mariage frères tea salon near the Eiffel tower is a place filled with prestige, refinement and tradition. Discover it with me here.
Not only did I taste delicious tea blends from some of the most prestigious tea gardens.. I´d also discover a new place with an extraordinary zen ambience where one can find inner piece for a while. A great combination of a decoration that takes you on a journey around the world, while the calm music and delicious tea relaxes your soul. I truly appreciated this place.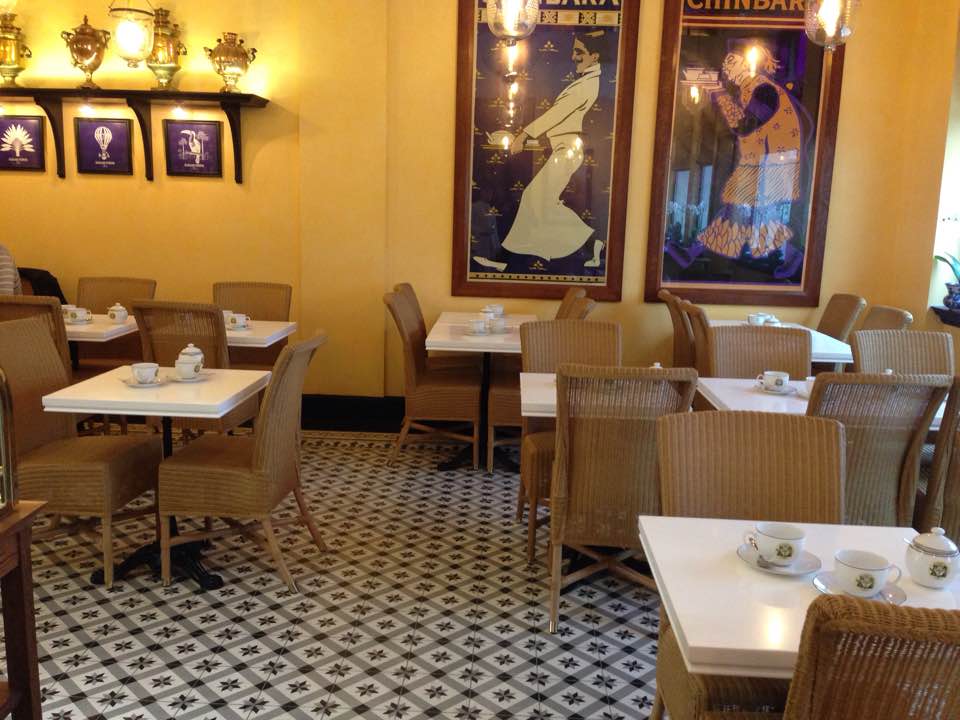 The art of tea making
I have never been a big fan of tea. Probably because I knew nothing about the secrets behind real tea making until I visited the Mariage Freres tea salon in Paris.
After a long talk with the waiters I found out that the control of water temperature and steeping time length are compulsory for a successful tea preparation! It varies from tea to tea. They explained that a green tea is much more fragile than a blue tea for example. So if you pull boiling water directly over a green tea you´ll burn its leaves and get a rather bitter taste.. so this is probably why I haven´t really appreciated my tea to the fullest.
In order to preserve the tea flavors and scents, a purified water must be used, and the leaves taken off the teapot before the tea is served.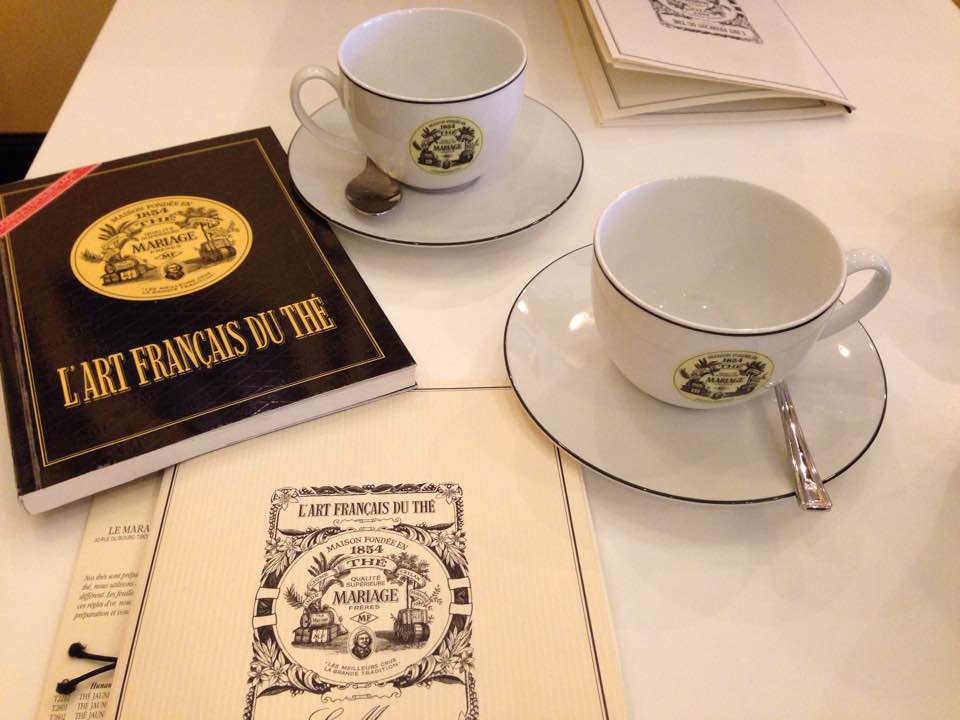 I tried the new delicious Mariage Frères flavor: Marco Polo Blue
If you are already familiar with the Mariage Frères tea you probably know the legendary Marco Polo blend. It´s the Mariage Frères iconic fragrance with sumptuous fruits and flowers from China and Tibet.
But the Marco Polo has recently been re-created as a Blue Tea™ – an indigo-blue cup that offers a smooth elixir of sensual and gourmet nuances.
PREPARATION TIPS:
3 g of tea / 20 cl – 95°C water – leave it for 3 min

& the ★ GOLDEN SQUARE dessert
A delicious dessert filled with dark chocolate, infused with Black Magic Tea, wrapped in wonderful gold leafs, with a heart of 'sea salt' caramel and a currant sauce. A real surprise.
At first the red fruits reaches your tung and leaves a fresh touch, followed by the sweet chocolate that creates a harmony between the two…and then the caramel which is absolutely stunning. A must try.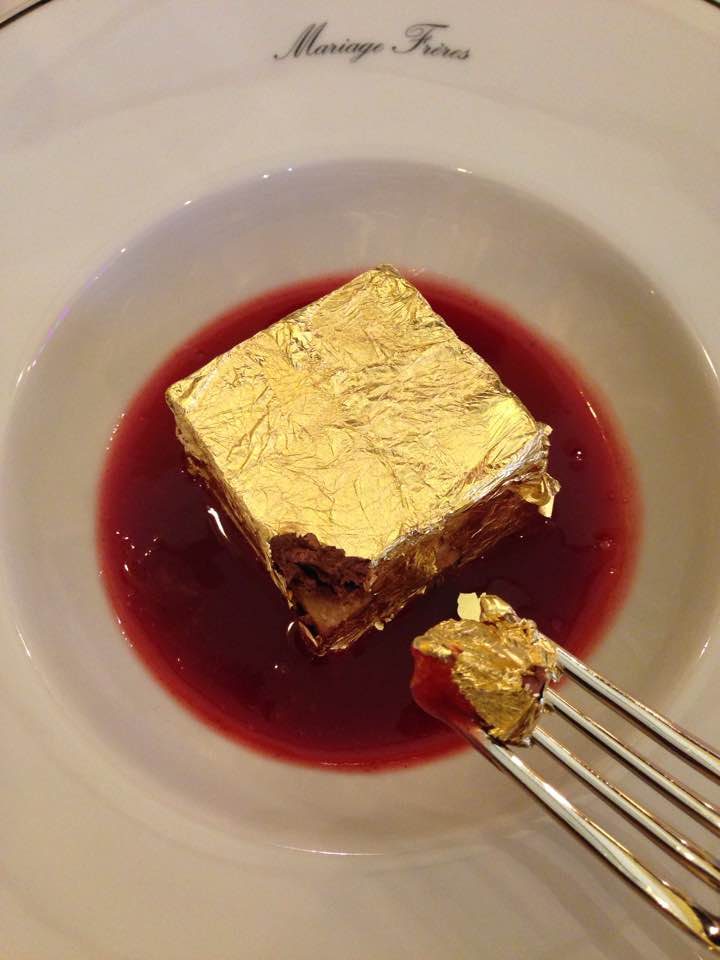 And guess what ended up in my living room at home…
You can find one of the Mariage Frères tea salons here:
56 rue Cler – Paris 7e
Phone: +33(0) 1 43 19 18 54
Metro ligne 8 – Ecole Militaire
Open 7 days a week – Restaurant from 12 pm to 15 pm – Tea Salon from 15 pm to 19 pm