THE FICTIONAL FASHION MOB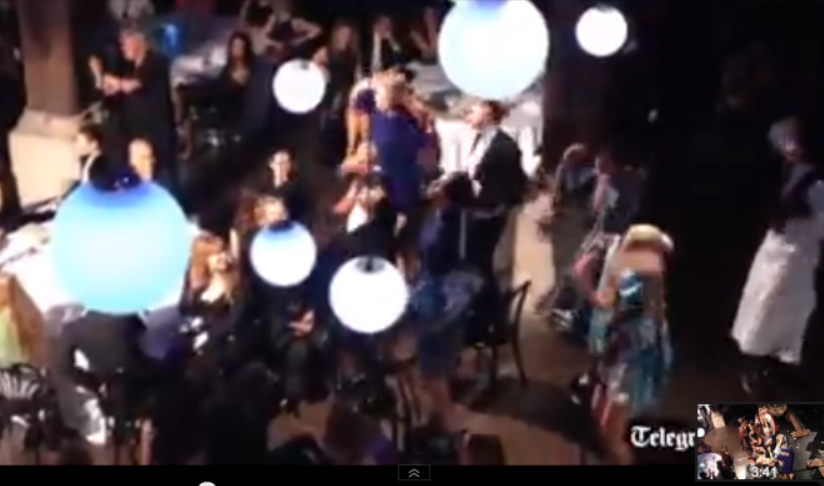 We have seen it before – the flash mob: A concept where dancers dressed like random people all of a sudden transform a public space into a spectacular dance-show… and the fashion MOB?
People who are not involved wonder what´s going on… they are surprised by the normally dressed by-passers who randomly start participating in the show, and seems to know the chorography! .
These well organized dance-shows, has taken the world with storm!
SO why not take this amazing phenomenon and turn them into a fashion flash MOB as well?
I googled it to see if it has been done before, and it turns out that during London fashion week 2012, several brands had already arranged fashion flash MOBs – to present the clothes in a new type of showroom: The public space! Even at a private gathering where American Vogue Editor In Chief Anna Wintour was present, a spontaneous flash MOB had been arranged!
That´s when I thought: I live in Paris – THE fashion capital – known for being in front when it comes to showing new fashion-tendencies! How come I haven´t seen it here yet?
Most people I know love pleasant surprises, and I´d argue that even those who say they don´t, would still be smiling after they took part in a fashion flash MOB!
A Chanel fashion flash mob?
So I´m looking forward to seeing if one of the big brands are doing a fashion-MOB in Paris this season?
I IMAGINE what it would be like standing at the top of "Trocadero" (as you see above) as a fashion tourist – enjoying the view over the Eiffel tower (seeing loads of people crossing daily, during fashion-week in Paris) – when all of a sudden a random girl takes off her coat and prove to be a model wearing a dress from the latest Pret-a-Porter collection underneath. Out of the loudspeakers we would hear a song. Bodyguards would appear as well, from out of no-where.
The model would start walking down the stairs of Trocadero at the right, down along the alley, where she would stop at the grass and do her pose. At the same time another model would appear from the bottom of "Trocadero" – walking the opposite direction towards "Trocadero", joining the first model in a pose.
Little by little more and more models would appear from out of nowhere – taking off their "normal" clothes, showing the latest  collection underneath… fashion-photographers (who are a part of the show) would appear as well, and take place at the square below Trocadero. Here they would get the most beautiful picture with the Eiffel Tower in the background! When all the models would be posing – standing still – dancers would appear – bringing the show to life! (Once the dancers disappear, the models would walk in a line down the alley, into a big truck that has been waiting to drive them away – to thereby avoid being bothered by the public)!
I know: The exclusive luxury brands – are only targeting very exclusive people!  So I'm not proposing a substitute for the real shows, but simply a kind of "extra surprise show" for the fashionable people who are lucky enough to be at the Trocadero at the right time! This would be a show underlining that the Parisian brands are not afraid to support innovating ways of throwing fashion-shows.
I would love to see a show like this organized by Karl Lagerfeld. Because: He is innovative… I'm sure he would do something spectacular and surprising that would cause the real "WOW" effect within the media and make people talk about a sensation. Something that would make the world see, that Paris is still the fashion capital that supports new tendencies and innovative ways of presenting them.
My point is…
I am waiting for new surprising fashion-events to happen in Paris.