Alexis Mabille haute couture 2012, a splendid collection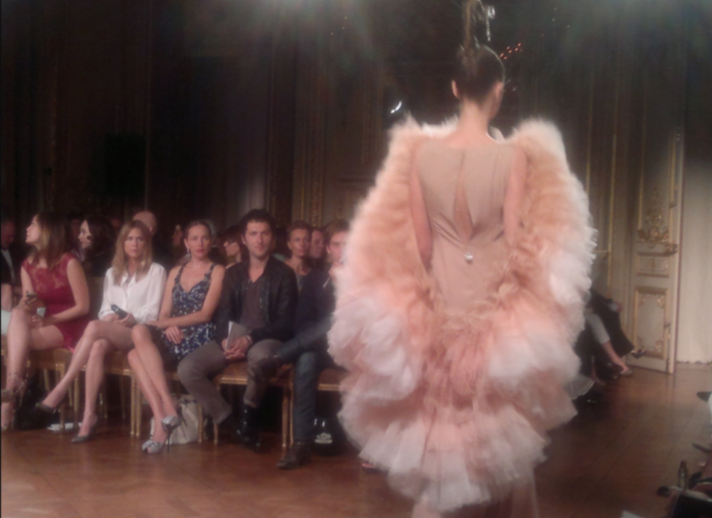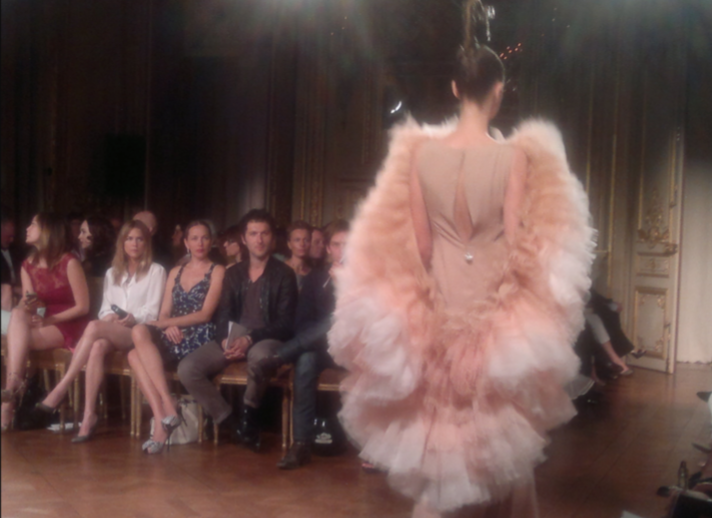 On Monday 2 July, the new Haute Couture collection 2013 of Alexis Mabille, was shown in Paris. It happened at Hotel Shangri-La – 10 avenue d'Iena, Paris 16e. I was seated on first row, and from there I admired the beautiful dresses and especially the new hairstyle.
While I was standing in the line, waiting impatiently to get in, I suddenly saw a good friend of mine, an editor-in-chief from London, who had just arrived, after difficulties finding a taxi in Paris. Great to meet people you know in these surroundings. We entered the great hall, where the show would take place.
Unfortunately my camera broke, so I was left with my mobile phone to take pictures. Quite a shame, since it doesn´t capture the beauty in the same way a good camera could have done, but I would have to do without.
Everyone found their seats, and the show could begin.
It said in the Press Release that Mabille, in this collection, envisages women as jewels. When he opens his jewel box, visions emerge, as well as their multiple facets revealed by light. These muses impose their charms – naturally attractive even in the rough.
How did Alexis Mabille succeed?
"Alexis Mabille launched his house in 2005 with a little help from his family, and created his first signature collection. At the time, the designer only showed unisex clothes.  He chose  the bowtie as his emblem, which he wanted to update and reinvent in new shapes and unexpected materials." It sais on his website.
His name Mabille, is almost pronounced as "habiller" which means "to dress" in French. Almost a coincidence? After a while he decided to do separate lines for men and women, and in 2010 that turned into starting up Couture as well.
It says on his site, that the philosophy of the brand is to blend the tradition with a certain sex appeal and energy that reflect the times.
Mabille graduated in 1997 and quickly gained a private clientele. Having earned his stripes at Christian Dior, he went to collaborate with Yves Saint Laurent and Lancôme, while he developed his own brand
The show was fantastic
See the show here:

After the show, my friend and I grabbed a cap, and went to the Marais area to have a coffee in the sun.